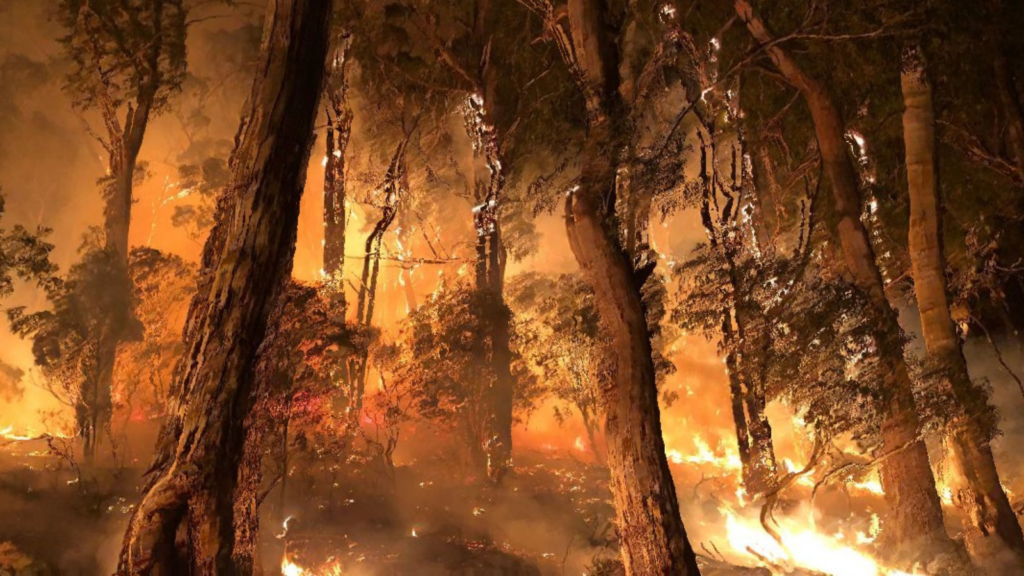 ---
In the wildfire-ravaged summer, everything disappears behind a haze of smoke: first the sun, then the mountains on the horizon, and then the women. They leave at night or at high noon, following the smell of smoke and the currents in their own blood. Something unnameable carries them toward the hills.
In absentia, the missing are diagnosed with a madness brought on by smoke inhalation. Before they disappear, some rub the inflamed membranes of their eyelids until they swell and weep blood. Some of them cough like thunder and spit greasy black blood. They leave doors open behind them, they jump from third-floor windows and land on all fours, they walk away from their desks in the middle of the work day with voices still crackling in their abandoned headphones. Their footprints are clear, but no one follows them.
Darcy reads the news and moves the mattress to the studio apartment's inner wall, partially blocking the bathroom door. This is the farthest she can get it from the window, which stays closed at all times. There's no air conditioning; Wynifred complains and sweats in the heat. Darcy and Wynifred sleep in the same bed, no bedframe and no bedding but a fitted sheet. Wyn's damp halo of curls transforms in Darcy's dreams into a forest of creeping, clinging vines. She wakes up peeling tendrils from her throat.
Wyn begs for an open window, at least at night, for a sip of breeze and the sound of crickets, but Darcy just sighs and shakes her head. She keeps a pitcher of tap water, unfiltered, in the refrigerator. If it's cold enough to numb her tongue, she can ignore the lingering taste of metal and campfire.
Wyn wears her bathing suit all day and eats frozen grapes. She reads her books in the empty bathtub, pressing as much skin as she can to the cool white enamel. She asks to go to the park. Darcy says no.
She feels it, the way the smoke waits, singing the ghosts of murdered trees into her mouth whenever she steps outside. It hurts, stings her eyes and sinuses, grits in her throat and between her teeth—hurts, but she likes it too.
Darcy knows she could be one of the women that slip away. She can imagine it all too easily. Wynifred on the swing, laughing, calling "Mommy, watch me!" and turning her head to see an empty bench. Wyn waking alone on the mattress to find the screen pried off the window.
In a dim, hazy way Darcy thinks she knows where they go, the women who disappear. She feels the pull herself, the water in her body swelling toward a certain heat. She could follow it. But then she thinks of Wynifred and she steels herself. Runs the water as cold as it will go and sticks her whole head in the sink to gulp it down, until she feels like she's drowning, until she can barely smell the smoldering within her.
Darcy drives Wynifred to summer camp with the windows up. While Darcy works they take Wyn and a van full of other kids to the bowling alley, the rock climbing gym, the museum of natural history. The children wear matching orange shirts, and Wyn complains that she hates orange, hates the mildewy smell of the donated van, hates the counselors and the other kids. She wants to stay home by herself; she wants a storybook summer riding her bike to the library and catching frogs in the brook.
"If there are frogs in that brook they're probably some kind of radioactive mutants," Darcy says. She hates herself for the way Wyn's face falls, but she doesn't apologize. Darcy thinks of doors left ajar. She thinks of women with bloody tracks like tears down their faces. She thinks of sweet, vague Wyn, pedaling her bike with her mind a thousand miles away, not even noticing the monster in her path.
Maybe next year the air will be cleaner, the horizon a clear bright line. Maybe next year trees will be something Wyn can climb instead of fuel for the neverending flames.
The heat makes Darcy exhausted, her veins sludgy after an interminable shift at the gas station, breathing in cleaning spray and other people's sweat. She picks up Wyn from camp, and they turn on a movie and sprawl on the mattress. Darcy's hard asleep before the second act.
When Darcy wakes in the morning, the window is open. Just a crack, but Wyn has dragged a chair next to it, perched there with a book on her lap. The air isn't exactly fresh, but it's moving, and cooler than it's been in weeks. Darcy hears a bird singing somewhere.
She leaps up and slams the window closed before her eyes are even fully open. Wyn gives a cry of indignation, then falls silent with shock as Darcy bursts into tears.
"You can't do that," she gasps, tasting metal at the back of her throat. "You can't ever open the window without asking, okay? Not until I say it's safe." Wyn nods, dark circles under her eyes like rings of soot.
Darcy leans her head against the window she's just closed. The glass feels slightly sticky. Her whole body shudders as the tears slow to a trickle, then stop.
It's the wanting that scares her. She feels its tidal surge every time she smells charring wood. She wants to go. Whatever beast lived within those people, the ones who disappeared, whatever slumbering monster was awakened in their bones, she harbors it as well. She feels its great bulk as it turns in its sleep, whimpering, sniffing the air.
Hush, she thinks. Hush, sweetheart, like soothing Wynifred through a bad dream. She shakes the thought away and finds a clean uniform shirt and gets her daughter to the community center in time for free breakfast.
The call comes on Darcy's cell phone half an hour before her lunch break. She lets it buzz in her pocket, because she'll get written up if someone sees her answering it on the clock. But when it immediately starts ringing again, Darcy knows something's wrong.
"Hello?" Despite all her care to avoid the smoke, her voice sounds hoarse.
The person on the other end is apologetic but calm, so calm it takes Darcy several tries to understand what they're saying: they've lost her child. Wyn was in the van when it left for the aquarium, but nowhere to be found when they took attendance inside.
Darcy is in the car before she realizes she's left her register. Her grip on the steering wheel is so furious and hot that she smells burning plastic. In the parking lot of the aquarium, she leaves the engine running and stumbles across the asphalt, scream rising in her mouth, ready to billow out in a pyroclastic cloud that will obliterate the building—
but she chokes on it when she sees Wyn's small, sad face, there under the arch of the entryway. They found her in a tree at the edge of the parking lot. She never even left the property.
Darcy is quiet on the way home, her fingers moving restlessly over the weird melted grooves of the steering wheel. Wyn is quiet too. Darcy thinks about telling her all the things that went through her head when she thought Wyn was missing—women with smoking hands, rotten tree limbs for teeth—but she can't force the words out. Even though it's barely lunchtime when they get home, Wyn lies down on the mattress, turns her face toward the wall, and falls asleep.
Darcy watches the slow clench and unfurl of Wyn's ribs as she breathes. She wishes for a cigarette, though she's never smoked. When she checks her phone, there's a voice mail from her boss, but she deletes it without listening. The sun shines through the window, turning the little apartment into a greenhouse. The heat feels good on Darcy's skin. She likes it, the low warm animal smell of her own body, the tributary of salt sweat down the back of her neck.
Darcy dozes off in her chair, and when she wakes, Wynifred is splitting open.
For a long time, whole seconds, Darcy can't move. She sits there with her head tipped back against the threadbare upholstery of the Goodwill armchair, no sign she's awake except her open eyes. She can't close them. She can't do anything but watch.
Wynifred peels her skin off like a sunburn, but deeper, scratching down through fat and muscle with a wet, awful sound. She raises a finger to her mouth and licks it, licks her own blood, and Darcy sees that the finger isn't right; it's too skinny and bends in too many places and comes to a wicked point at the end, and it bristles all over with dark spiky hairs. Wyn goes back to digging with that horrible claw in the meat of her own thigh, and Darcy hears it scratch against bone.
Then she can move again. She leaps from her chair and launches herself at Wyn, wailing something that isn't a word but doesn't have the strength to be a scream. She grabs Wyn and begs her to stop, stop hurting yourself baby stop it you're okay I love you please stop, squeezes hard on Wyn's shoulders and her daughter just—shrugs them off. Slips her shoulders down her arms and leaves them behind in Darcy's hands, like a woman in an old movie being helped out of her coat. Darcy stands there holding Wynifred's old skin, thin and bloodless, already starting to curl at the edges.
The Wyn underneath is glossy and wet. Her limbs are knotted and whorled, too long and have too many joints, like she's part insect, part tree. Her new skin looks harder and rougher, still slick with afterbirth. Something dark and stringy webs between her fingers and drips down from her shoulder blades. Her face, though: her face is still Wyn's face, mouth flat and eyes huge.
The stone in Darcy's chest feels terribly old, like the fossil of a scream. She grits her teeth around it and reaches for Wyn again, but her daughter (is this still her daughter?) twists away from her grasp. Stumbling on her strange, stilt-thin new limbs, Wynifred lurches toward the door. She can't get a grip on the knob, so she slams her body against the door instead. The cheap wood splinters and creaks at the impact, and Wyn makes a sound Darcy has never heard before, a horrible mewling groan that Darcy knows is a cry of pain. Wyn is hurting herself. She rears back to do it again.
Darcy opens the door.
The creature looks at her with Wyn's big brown eyes, bigger than they've ever been before. She chitters incomprehensibly, her jaw moving in a way human jaws can't. Then, dropping to all fours—or is it more than four?—she gallops out the door and is gone.
Darcy stands there in the doorway, watching the black shadow moving toward the mountains, silhouetted against the blood-orange smoke of sunset. She wants to cry. She wants to run after Wyn. She wants to slam the door and cower behind it. She takes a deep breath, the smoke clawing her throat. She fills her lungs until they ache, then holds it. She'll have to let it out soon, but she can hold it for a few more seconds. Just a few more.
---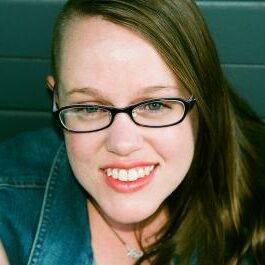 Lindsay King-Miller
The author of Ask a Queer Chick: A Guide to Sex, Love, and Life for Girls who Dig Girls (Plume, 2016). Her fiction has appeared in The Fiends in the Furrows (Nosetouch, 2018), Tiny Nightmares (Catapult, 2020), Planet Scumm, Grimdark Magazine, and numerous other publications. She lives in Denver, CO.