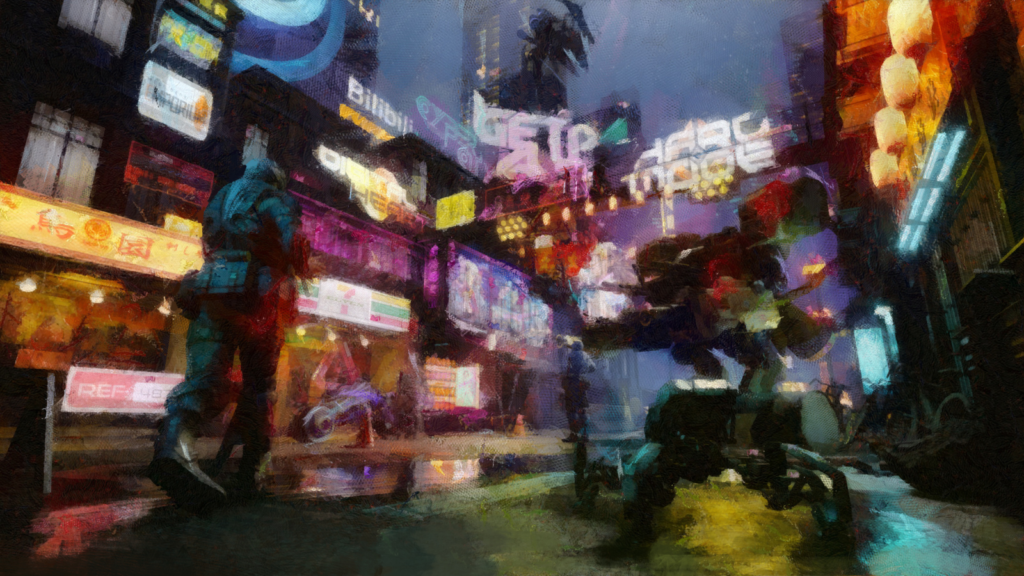 ---
I use Hac this time. They name themselves Sev, Jen, Timor. The chloropin in our shots smells like bleach and tastes like the swelling bag of a breached lithium battery.
I blink once and we're at a spouthouse three floors up and through a maze of concrete hallways, sucking paste through nozzles. Tastes like glutamate. We get full fast. I blink twice and a Weisskopf peoplemover's hocking us up into a corridor with flickering lights and pipes coughing steam.
Sev slaps himself awake. Jen dribbles something in her eye and her pupils swallow her irises. She offers me a hit. The world goes wide.
Uplink says there's a banger within a mile of lefts and rights past graffitied walls and rusted-out door frames. The ceiling's low here, and it closes in.
Timor leads the way, challenging every other shuffler to a fight. He gets one, and we leave him to bleed it off in a closet.
Banger's a banger. This is the biggest room I've ever seen. It can fit fifty people. There's a hundred inside.
The flashing lights leave me half blind and the pumping bass has me half deaf, but Sev's got his hands on my hips and Jen's face is buried in my neck. The crowd roils. The sweat seeps into our clothes. Everything is hot and wet.
Strangers smile, say sorry when they collide, trade thank yous for the tabs and the drips and the patches, check on each other's zeroed faces. We forget the smell of backed-up sewage and the fumes from factories buried somewhere a hundred stories deep. We breathe strobing menthol smoke.
My clothes are sopping wet. Sev strips off my crewneck. Jen slips her slip. Clothes heap at the edges of the room and we're a slithering sliding mass of skin on skin, for once since the foster's feeling nestled, nuzzled. We struggle to get closer. We get inside each other. Closer. We gulp down each other's air.
We end up piled on top of the strewn skirts and discarded shirts, heads on thighs and chests under strangers' hair. When the beat dies our naked noises are laid bare: snores and farts and hushed giggles. Jen's still restless against me so I finish her with my mouth and she falls asleep with my head between her thighs.
We sleep.
We wake.
The uplink says there's plenty of gigs elsewhere, so we go our separate ways.
We never see each other again.
***
Every other gig has us putting up walls. The steps are simple: we mix concrete and pour it into the wooden molds the last pair of stringers built. We tap it with a few hammers and voila, we've deleted five whole cubic feet of space, but two people get to say they own a room.
So it goes in the Reno Walled City.
I bump fists with my one-time partner and we disappear into opposing throngs in a wide hallway cold with fluorescent tubes.
The points from the walljob come through and I can finally find myself a spout. The points drain into the checkout and tell it I'm worth the calories, so I get a few halting spurts of chalky banana pudding. My lips pucker—this spout's gone bad. I mark it with a glyceride pen and slam the side of the nozzle, spraying the wall with stinking amino.
I need another job.
The uplink comes through and I make my way to the gig. Some poor sap didn't pay out his points so me and five stringers have to take turns on him. I bust his cheek open with an elbow. Some other guy buckles his knee. One pulls out his cock and comes close to pissing on this poor skinflint's face, but I push him away. It'll smell, and the air's already muggy.
The points come through and we leave the piker broken in a wetroom with tiled floors. Someone should call a job to get him cleaned up, but I gotta find a nozzle.
That's when I see her.
Going from block to block, between rooms and halls and peoplemovers, for miles and miles in this dingy neon-lit sprawl, you can go years without recognizing anyone. There's so many faces, so many doors, so many floors. The odds are nil.
"Have we met?" I say.
She sucks down a mouthful. "Devin?"
"Sure," I say. "I don't remember your name."
"I probably made one up," she says.
I smile. "Me too. Today's Dmitry."
"You don't look like a Dmitry."
"Nobody looks like an anything. What's your name?"
She thinks. "Persephone."
"Okay, you look like a Persephone."
She laughs.
"Still grinding?" I ask.
"No, I'm done," she says.
"You want a drink?"
"Sure."
We skip the drinks and go straight to ergotamine patches. The gray halls of the Reno Walled City start to warp and ripple with color. We find an empty-enough room with cushions and stained mattresses, nestling there, shuddering in the pictures of a place that suddenly seems fuller, vaster. Not just a series of rooms you walk through until you die.
"I hear the top floors vent you into space," she says.
"Probably shouldn't go there, then," I say, winding my fingers through her hair. "I hear the bottom floor opens into Earth's core."
"Probably shouldn't go there, then," she says, smiling.
I kiss her and for once don't think about what the next warm body around the corner could look like. She kisses with her eyes open, but we hold there a second longer and she shuts them tight, pulling me close.
"I hear if you go far enough, you end up where you started," she says.
"Mm-hm." I kiss her neck.
We fuck ourselves to sleep.
We wake.
The uplink says there's plenty of gigs elsewhere, so we go our separate ways.
***
I trade in my jacket for a new henley at a recycler and watch the points shave off my balance. I need another gig. There's one six stories up.
They have me standing in front of a remodel someone sledged into the wall. They tell me to be real imposing-like. They give me a gun and say to ventilate anyone who comes close.
Some stranger screams from inside the room and slams their fists into the door. There's crying.
Okay.
Nobody comes during my shift and I don't have to shoot anyone. Easy points.
I'm starving so I hit up the nearest spouthouse. People are piling in, getting full. Having a good time. I say my name's Saleem. They're Jost, Brinn, and Allie. We decide to find a still. We drink once for the spouts, twice for the stills, thrice for good jams.
A peoplemover barfs us up miles away, and we march the last hundred feet to a crowd twitching to jerked beats and glitching snares. We melt into the multitude, Jost pulling me into its gyrating heart. He bites my neck and while my head's turned I see her.
"Persephone?"
She turns her head, eyes wide. Some guy's got her by the hips and they're swaying to the sounds of chopped vocals and synth strings.
"Nyx today," she says.
"Saleem today," I say.
She smiles and kisses her dance partner.
We dance apart but drift towards each other in the wet slippery naked mass, maybe by the same mess of coincidences that landed us in the same room in the first place.
She finds my ear and says, "Hey stranger."
"Hey, stranger."
She pushes me down and pulls herself on top of me. We move to the beat.
When she's done she lies against my chest and asks: "Where'd you foster?"
"Miles away," I say. "All the blocks run together. I don't remember it."
"I came up in Morrison 9," she says.
"Oh, I've been," I say. "Red ribbons in the hallways, for the whole cube?"
"Yeah. And a spice nozzle."
"I did like that nozzle." I think. "But the best is this mousse spout, I think in Agbo 13. Trenchfruit."
"You've got a sweet tooth," she says.
"You must be sweet."
We hook up our uplinks and watch streams from strange corners of the Walled City. We scoff, cringe, get jealous. We curl up.
We sleep.
We wake up.
The uplink says there's plenty of gigs elsewhere, so we go our separate ways.
***
A gig in the morning has me delivering a squaller from some alcove a stringer doula thought would be peaceful enough for birth. I drop the kid off at the local foster's with the other squallers and collect my points.
A gig in the evening has me dragging the putrefying corpse of some shambler to a furnace a few blocks away. I get dirty looks in the halls as I drag a line of rot down the rows, but fuck 'em. I'll never see these people again.
The furnace bursts with orange and I feel like I need to take a shower. I post a job and a balding man shows up with a bucket and a sponge, patting me down in a wetroom until I'm clean again. I tell him thanks and slide him some points, and he disappears to the next job.
I only have enough today for either the spouthouse or the still. I opt for the still, and there she is.
"Nyx," I say.
"Isis today," she says.
"Conan today," I say.
We clink shooters and gulp down sour fermented nozzle paste.
"Can you even tell what flavor this was supposed to be?"
"I think strawberries," she says.
We drink.
We don't find a jam or a beater this time, we just find a room with soft things on the floor and only a handful of people inside.
"I had to burn a dead old guy today," I say.
"Yeah I hate those," she says. "Pays okay though."
"You ever get one where you gotta skin a skinflint?"
"Once. I wasn't great at it. Only got half-points. Didn't even leave a bruise."
"Ah, you're too soft," I say.
She bites my neck and sucks. "That'll leave a bruise."
"I bet."
I get on top of her and we finish.
We sleep.
We wake up.
New gigs chime on the uplink, but I say, "Hey. Do you want to find jobs in the same spot today?"
She sucks in through her teeth. "One of us will be taking a hit," she says.
"I'll take the hit the first time around," I say.
She nods okay.
***
I take out a loan so I can hit a spout. The gig pickings are clean where she works, in blocks with soft cushy rooms where a lotta pointful men stalk around. We hit a nozzle together when she's done, this one's boiled lentil. Tastes healthy. And bad.
"You got the room today?" I ask.
She nods, she got us a solo sleeper.
When we're full we head over and hook uplinks, watching streams.
"Hey look, they found a peoplemover that just goes in a circle. Doesn't stop."
"Nobody can get on?"
"And nobody can get off," she says, fascinated.
She backs into me and I hold her.
My mind drifts to my sub-zero balance.
"Hey," I say. "Whaddya say you come down with me to Svensen 3 tomorrow? Plenty of gigs," I say.
"Not for me though," she says. "Uplink's taking me to Shattuck."
"C'mon, I've gone sub-zero. I gotta be at Svensen in the A.M."
"I'm almost zeroed," she says, turning around. "I paid for the sleeper."
She smells like trenchfruit perfume and her eyes are big and liquid.
I kiss her on the forehead and she smiles a small smile.
We sleep.
We wake up.
The uplink says there's plenty of gigs elsewhere, so we go our separate ways.
---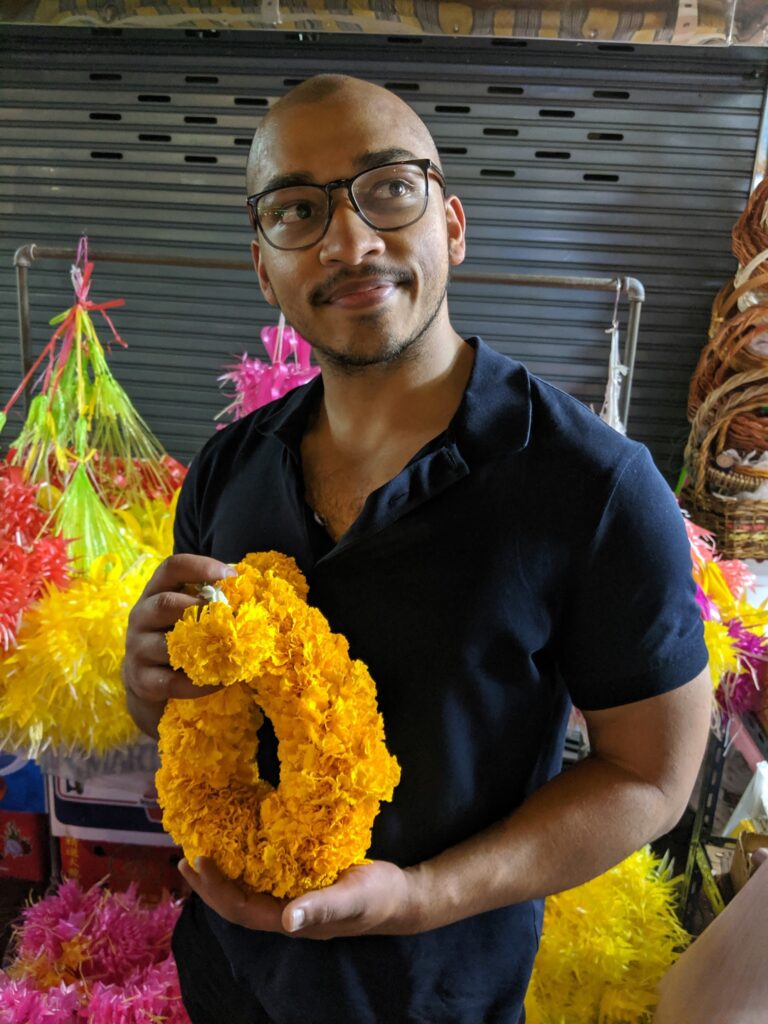 Naim Kabir
Naim Kabir has bounced between neuroscience, machine learning, and software engineering—but his first love was telling stories. He's been lucky enough to appear in Clarkesworld and Beneath Ceaseless Skies, and he's been featured on the Locus Recommended Reading List. You can catch past pieces at naimkabir.com or follow @kabircreates to see new ones—and you can certainly expect new ones. Feedback welcome.