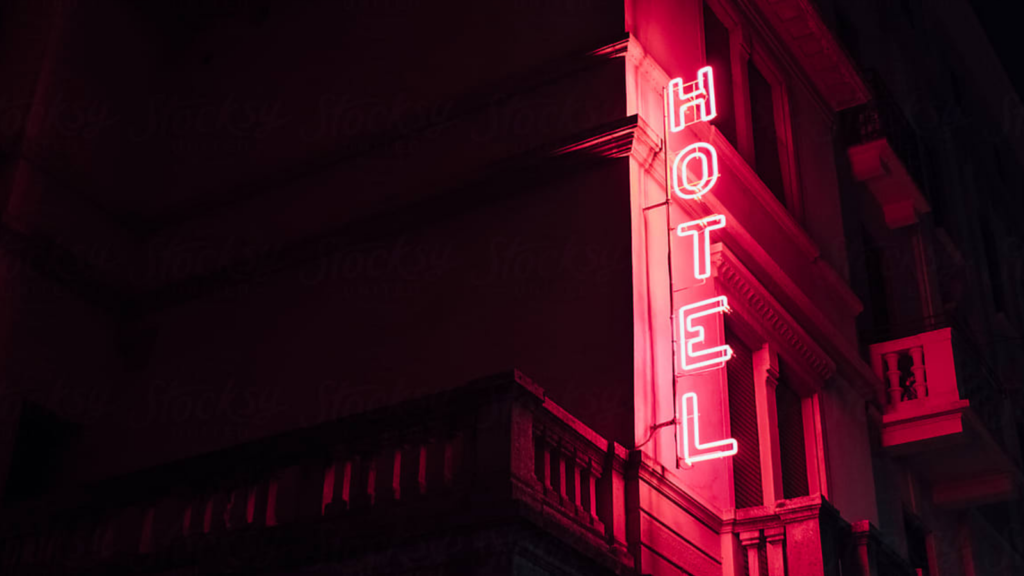 ---
The only thing that kept me from gnawing Ellie's face off some days was that sharp taste she had. Her blood was like Windex sprayed over rust, and I could only imagine it'd be like barbed wire in her flesh. Sometimes when she picked at her scabs I'd be vacuuming up the smell days later. I tried to keep her visits to once a week for both our sakes.
I don't think she loved me. But maybe Ellie needed me. She said she didn't know what I was until she saw my teeth. She just knew I wanted something she could give. I met her at the gas station. I'd walked down from the hotel to buy cigarettes. She was sitting on the floor in the candy aisle, dusting the unopened boxes in the rack and scratching at her legs. Her blond hair was stringy and her skin was tight across her bones. She told me to come back when her shift was over. When I got back, the sky was getting light but not so much it hurt my eyes yet. I thought she'd have a car and we could go somewhere else, but instead she took the bathroom key off the wall.
Usually people get nervous around me pretty quick. We make a little small talk and they start out nice enough, but there's something inside them that knows what I am. I can see their blood start to move a little faster. Their pupils blow out. They start to stink. But Ellie didn't. After I drank her the first time, I gave her some tips I'd collected from cleaning the guest rooms. She told me to come back in a couple of days when she had another night shift.
It got to be a regular thing. I wondered sometimes what might have happened to her that she didn't care about her life slipping into mine. But everyone needs a little tenderness. I'm no different, not in that way. Sometimes when she got off work I'd let her spend the night in a guest room with me and watch TV. She liked the shitty late night shows like Family Feud. Sometimes she'd take a shower to get the blood off and I'd hear her singing some song I didn't know. She loved scary movies, but I couldn't watch them with her. I always felt cheated whenever I watched that stuff.
***
Things were different when I died. There were still animals in the woods big enough to take the blame. I was still sleeping when they wrapped a handkerchief around my torn out throat and put me in the ground. When the deacons saw the grave dug up, they could call it hounds, foxes.
After I crawled home, I made sure my husband would stay put. I sharpened his razor on the strop by the backdoor. He didn't see me until I had him. I knew my hunger for what it was. His fingernails dug at me when I pressed my mouth to the slit I'd cut in his throat and drank him down. He tasted like corn and iodine and fermented peaches. It was familiar and new all at once. Like you don't know how good an apple tastes if all you ever get is the peel.
After he was laid out in his box in the parlor, I snuck in and took his feet. Even if he woke up he couldn't come after me. I burned the house down.
***
I held down that hotel job for a while. My problem with jobs before was always trying to act like I was somebody. I'd learn people's names, look at pictures of their babies, sometimes get invited places. But my face starts to be too familiar. They wonder why I never talk about my people. I've had to learn to be alone. I stayed in the basement laundry room of the hotel during the day. If I got my work done and didn't hang out in the breakroom, people didn't notice when I didn't go home. No one talked to me unless they needed a shift covered.
I mostly washed the sheets and towels, stripped the rooms when folks left. Under the bleach I could still smell the shampoo, the fucking, the vending machine food. When the sheets were newer, I could still see the stains, but after a few weeks they're all just one big stain. I didn't have the papers I needed to get a job anywhere else, but it wasn't so bad. It was a roof over my head. 
***
The first woman was a mistake. I saw her sitting with a man in the theater. It was my second time sneaking in to see Singin' in the Rain. He had his hand on the back of her neck. I could see the sweat slip out of her hair and under his fingers. I heard him whisper in her ear how slick she was. I followed her to the washroom after the movie was over. I wasn't thinking straight. She felt like a cold glass of lemonade pressed against my forehead on a hot day. I couldn't drag her out the window with me. The story was in the papers for months. Her name was Sarah. I went to the woods and dug a trench under a rock and slept for a long time. I learned not to take a body that someone will miss.
***
I started putting a little money away for Ellie in a sock I kept in an old bedside table. I knew she liked to have a good time with the wrong people. But I thought if the right person were to look out for her, to make sure she cleaned up her act and saved up a little, she could go to school. She talked sometimes about wanting to get a job at the hospital. She was sharp. She always guessed the words early on Wheel of Fortune.
Sometimes I kept a little for a movie ticket. If I went to a seven o'clock show, there'd be enough folks around that I got by without having to make small talk with the kid at the ticket booth. I wouldn't mind the talk, but I know how it all ends.
Ellie always said it didn't hurt too bad. But sometimes my gums went numb when I swallowed her, so I don't think she could really tell.
Ellie asked me once how I got to be what I am. I knew why she asked.
I told her I met a woman in the woods. She lived alone. She was wearing a dirty blue dress. I'd heard she was a granny woman, that she knew roots and plants. I was having female trouble.
I didn't tell her how tired I was. How we never had enough for us, let alone another. How I wanted a little girl, but a girl wouldn't want a daddy like him. How I thought I was old enough to be done bleeding. How I wasn't careful.
Ellie asked if it was like in the movies.
I said yes and no.
The woman told me she could take care of it. She took a knife out of her pocket and cut a circle into my palm, a small red moon. She put her lips to that moon and sucked the blood welling out of the cut. Then she gave me a cup of tea. It was dark and tasted like nails. I drank it and she told me to go home. I lay in the bed sick for three days. I sweated and dreamt of things moving underneath my rows of beans in the garden.
On the third night, I opened my eyes and saw the woman standing over my bed. The woman asked me if I wanted to be well. My lips cracked when I said yes. She opened her jaws and I felt the darkness cut my life in two.
I never saw her again.
***
I should have waited longer to tell Ellie about the money. She was sitting with her foot propped up on the hotel room desk, painting her toenails. She looked like a little girl making a wish on her birthday candles when she leaned over to blow them dry. I pulled out the sock. I told her I wanted her to have whatever she wished for. I wanted her to be a nurse or a beautician or whatever else she wanted to be. I wasn't able to go to school or anything, but I always wanted to. I wanted her to have the choice.
She kissed me then and thanked me and cried a little.
It took her a few days to do what she was always going to do. I'm proud of how long she held out. I know what it is to want something so much your teeth ache. I'm proud of how she didn't make any promises to stick around, to do better. She didn't say that we'd get a house together, a nice place where I wouldn't have to work once she was done with school. She just let me open her up. She patted my hair while her blood gushed slow down my throat. Then she took off.
***
It was a month before I saw her again. Folks at the gas station said she stopped showing up. I tracked down her sometimes-boyfriend, but he wouldn't let me into his trailer. Then one night when I was walking downtown I spotted her driving by. I watched her pull into the grocery store parking lot and run inside. I waited in the cart vestibule for her to come out. She dropped her plastic bag when she saw me. An orange rolled across the nasty carpet.
She started babbling, saying how much she missed me. I let her talk. I knew why she did it. You can love someone, what they give you, the safety of someone else. But hunger is hunger.
I told her it didn't matter how she'd used the money. Her chest caved into her spine with the big whoosh of breath she let out. She said she should've known it would be okay. That I was the best thing that ever happened to her. She took me back to her place.
It was a dump. Food wrappers and crumbs everywhere. Ashtrays. Too lived-in. She turned on the TV. We sat on the couch and she rested her head in my lap. I combed out her hair with my fingers.
I had wanted to hurt her a bit. I didn't want to kill her. But it had been too long that she'd been gone. I felt like my mouth was full of dust.
She sat up and pulled her top off. I could see the blood spilling like a creek through her body. The blue veins of her tits stark against her pasty skin in the dim light. I leaned over and placed a kiss over her heart. I sank into her skin and she said ouch baby that's too much baby stop baby no. I clawed her mouth shut while she tried to rip the hair from my head. Before long she slowed down.
When she stopped moving, I laid my head on her shoulder a little while. I kissed her cheek with her blood on my mouth. I put her key in the door and went to the woods.
***
Under the earth, my eyes grow smaller without light to see by. I feel roots poking at my ribs. My belly bloats. I wonder if something still sleeps in there. If someone cut me open and lay me out on a table, would he find a little girl, not so unlike the woman I was? Or would he find something else, ready to come into the world howling? Maybe both, waiting to clutch at my hands in the dark..
---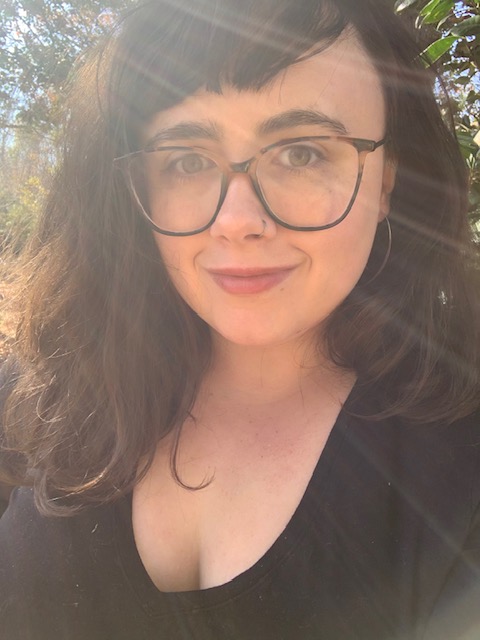 Sally Parlier
Sally Parlier is a writer and grocery store worker from North Carolina. Her work is forthcoming in Translunar Travelers Lounge and Corvid Queen.