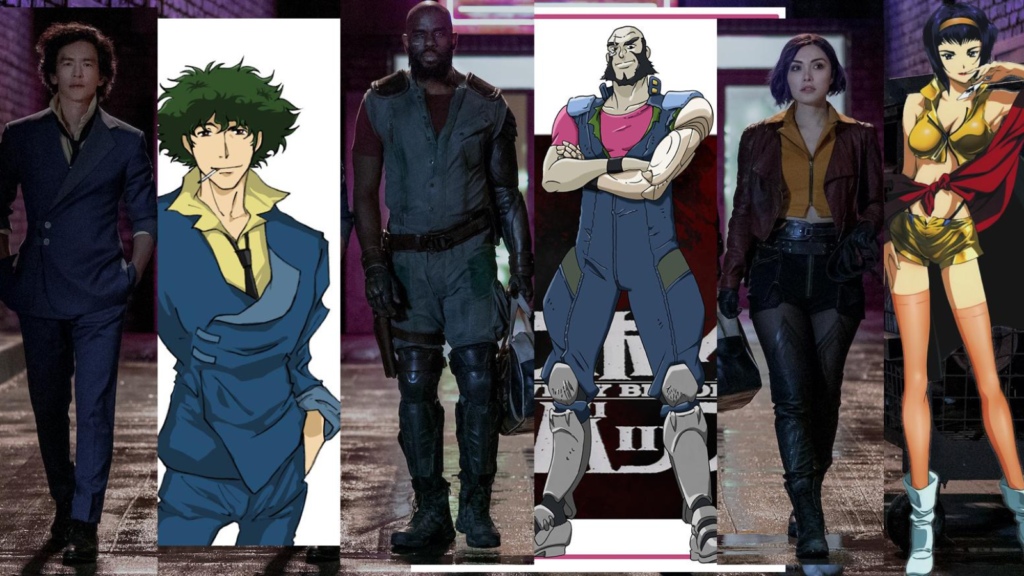 ---
Much like the jazz music it took as its inspiration, the original Cowboy Bebop wove together several genres – noir, westerns, space opera – into an effortlessly cool whole. There's a certain looseness to it, with a few tentpole episodes that delve into Spike's, Jet's and Faye's tragic pasts, but the remainder are much more episodic. Neither do the one-shot episodes' edges fit neatly into one another, instead leaving gaps in the chronology, inviting the audience to imagine the jobs where the Bebop crew was successful. The Netflix show, by contrast, is so tightly plotted and serialized that everything's been filled in, leaving no space for the audience to interpret what happens between notes.
The more episodic entries in the anime generally end up with the Bebop crew coming away empty-handed for their efforts. Sometimes, this is due to a miscalculation, but more often as not it's a result of realizing justice isn't fairly distributed and the crew deciding not to cash in on people's misery. This often leaves the crew near starvation, after paying for fuel, hypergate tolls, repairs on the Bebop, and any property damage they've incurred in the pursuit of a bounty. In fact, one of the first scenes in the series is an argument between Spike and Jet about just how much beef there actually is in Jet's "green peppers and beef" recipe after a bungled job.
It's this downplaying of how often the Bebop's crew is living hand-to-mouth that is very jarring in the adaptation. While their desperation is hinted at – such as Jet using coupons to get himself and Spike free meals at a diner – this seems more of an affluent person's idea of what being working poor looks like and not much like what it's actually like. This perspective manifests most noticably in the rewriting of Faye's backstory in the Netflix show.
Originally, Faye was orphaned in an accident that left her with injuries so severe she was cryogenically frozen in the hopes future medicine would advance enough to heal her, and it does – 54 years later. The decades of stasis and the subsequent treatments restore her to health, without her memory and with hundreds of millions of woolongs worth of debt. To add to her problems, everyone she meets upon being reawakened is trying to con her into more and more debt. Imagine how distrustful a person would become if the people and institutions who are supposed to care for them instead saw them as prey. This is what Faye suffers through and manages to escape on her own. When we first meet her, it becomes clear Faye's been on her own for too long, constantly staying one step ahead of her creditors. She drinks too much and gambles even more, partly to numb herself to having become a con artist herself, but also because she has no hope of ever being free of debt, so why not live in the now and enjoy herself?
In contrast, the Netflix show presents Faye as a rival cowboy, stealing bounties out from under Spike and Jet. Her backstory is much less about her material conditions, so her debt is glossed over in favor of her pursuing something more symbolic – her stolen identity. When the identity thief makes an appearance in the show, posing as Faye's phony mom, it's revealed they had teamed up in the past. Whitney had previously dangled the promise of giving Faye her identity back, but never held up her part of the deal. This conflict could have been emphasized more to comment on how poorer women often end up complicit in their own oppression because of perceived solidarity via shared identities, but the wealthy maintain solidarity only with those of their class. Instead, the conflict becomes: will Faye rebuild her rapport with Whitney and be lured back into that lifestyle? The sad truth is, for this Faye Valentine, who's framed as 'aspirational in the entrepreneurial way', this type of seduction makes perfect sense.
If only the adaptation had a portion of the anime's sense of alienation the Bebop crew have from not only the wider world, also themselves. Instead of the adaptation's banter, it would be clear their pasts have become barriers for connection. Even with one another, even after happenstance has thrown them together, they barely know each other. Nevertheless, they help each other out, because they are truly outcasts eking out a living on the fringes of the interplanetary society of Cowboy Bebop. For example, one of the first conflicts the show presents is one that's simply assumed in the original: Spike never told Jet he used to be a gangster. This seems a rather silly tension, especially since Jet was framed for the murder of a suspect and served time in jail, but the Netflix show makes a big deal of Spike keeping secrets from Jet that might just get him kicked off the Bebop. It's also very strange to have Jet still identify as a cop when none of his fellow officers seem to have supported him or demonstrate any regret that he was unjustly imprisoned. If this was the direction the writers wanted to take, it would have been far more interesting to see this tension and turmoil explored. In fact, Spike, Jet and Faye all seem to maintain their previous personas intact, something that makes them feel like they could return to their former lives at any moment, and which makes the emotional beat of them coming together to help Spike out of place and unearned. 
Instead of keeping the noir and western elements of the original, Netflix opted to make the live action show more akin to a crime procedural-adjacent comedy. This came complete with what (I assume) the showrunners hoped to become meme-able laugh lines. Tangentially, the desire to manufacture virality comes across as the show mugging for the audience rather than the cool assurance that the source material has in doing its own thing. Because it's trying to please an audience that may only exist in the showrunners' heads, much of what made the original seem sharp has been blunted. Spike still has some contact with the syndicate instead of turning his back on them; during Jet's cop days, he fell victim to one bad cop, instead of the entire force turning on him; Faye wasn't victimized and forced into colossal debt. All these writing decisions attempt to make the main crew of the Bebop into more likeable characters at the expense of making them compelling.
This sanding down of the characters' edges ends up completely changing the show. For all its goofiness and comedic moments, the original Cowboy Bebop was a tragedy, with Spike being its driving force. Unable to let his past with the criminal syndicate and the unhinged monster Vicious go, his need for revenge is what ultimately fractures the tenuous bonds between everyone else on the Bebop crew.
I understand arguments pointing to the Netflix show only having ten episodes (compared to the original anime having twenty-six) as constraints, but the insertion of the Vicious and Julia subplots shows how profoundly the Netflix adaptation misunderstood the original. Vicious and Julia are ghosts haunting Spike, and as such should be felt in the background rather than seen on-camera. Less of Vicious and Julia taking over the syndicate would have left so much more space to update the series, and explore new reasons why the crew of the Bebop lives on the fringes, why they're so emotionally stunted they can't band together, and why they feel so alienated from society at large.
This, though, would be something that risked resonating with modern audiences.
---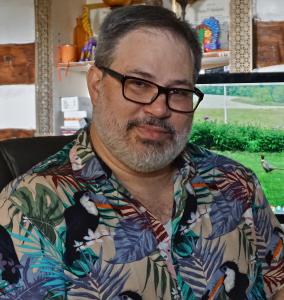 Karlo Yeager Rodríguez
Karlo Yeager Rodriguez is originally from the enchanting island of Puerto Rico, but moved to the Baltimore area some years ago where he now lives with his wife and one odd dog. His fiction has appeared in Nature, Uncanny, Beneath Ceaseless Skies, and the Speculative Fiction for Dreamers anthology; his other writing can be found in Blood Knife. When not writing, Karlo hosts Podside Picnic, where he discusses the full spectrum of the literature of the fantastic, and has also narrated stories for Escape Pod, Pseudopod and Podcastle.