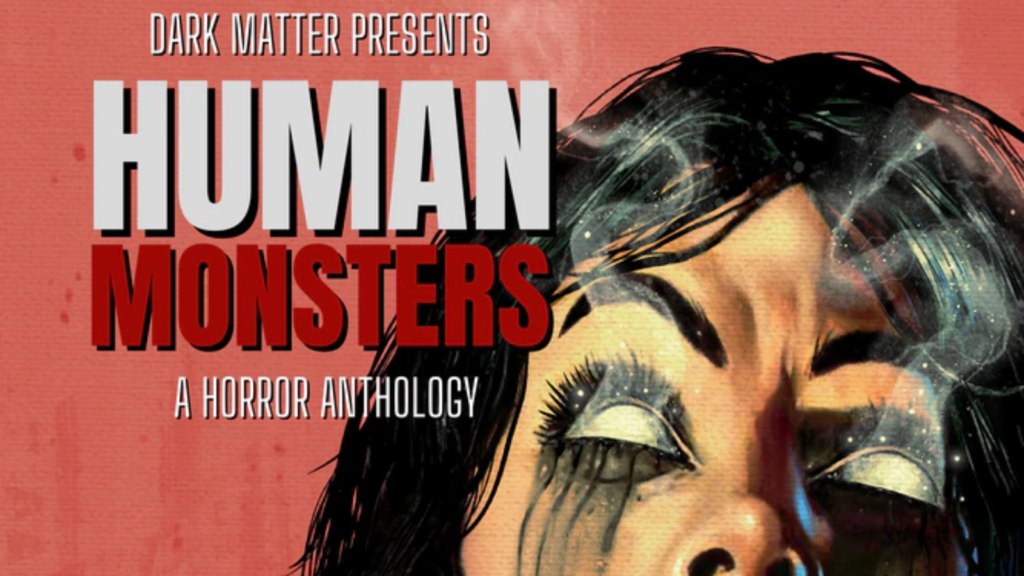 ---
MVU: Hi, Nat. Thank you so much for chatting with me about your short story "Jubilee Juncture," which will be published in Dark Matter Presents: Human Monsters, A Horror Anthology, edited by the amazing horror-fiction duo Sadie Hartman and Ashley Sawyers. One of my favorite feelings when immersed in a story is to be unsettled, and your story unsettled and creeped me out right from the start and only got weirder and more disturbing from there. I loved it!
You not only write horror for the page but also the stage and screen. Could you tell us a bit about your relationship with the genre? What draws you to horror, and where did it all start? Do you remember the first horror film or story you experienced where you decided, yes, this is what I want to do?
NC: Yay! Thanks so much for chatting with me, Marissa!
Oh, boy, where to begin…? So, I'm a lifelong student of horror. I've been obsessed with the genre for as long as I can remember. It's what I watch when I wanna watch something; it's what I read when I wanna read something. Everything I write, no matter the medium, is steeped in the language of horror. I've also been acting since I was 5 or 6, and even THAT was because of my love of horror, too (my first-grade teacher told me about the plot of Macbeth, knowing witches and ghosts and murder would get me to shut up and listen, and from then until my mid-20s I pursued classical theatre acting as a profession).
I have a lot of theories about why I find horror so comforting and I've been known to talk about them at length, so let me see if I can condense it down a little for our purposes.
For starters, my mom was a big horror fan—and sci-fi and fantasy and thriller; we were very much a Genre household and there were always books around, daring me and my brother to read them if we were brave enough. This was in the 80s and 90s, so we're talking Golden Age pop horror paperbacks here. The house was full of Kings and Koontzes and Chrichtons and Barkers and Rices.
But it goes beyond just having those kinds of books available to me. I was raised by a single working mom who had MS, so she was only able to work part time. We were a Jewish household, too; my mom's mom fled to New York from Poland to escape the increasing antisemitism there in the '30s. The specter of the Holocaust hung over our family—it was something my mom was always kind of obsessed with, and she impressed upon us how we were descended from the portion of our family tree that managed to escape in time, whereas other extended family wasn't so lucky.
Plus, we were well aware of how my mom's disease prevented her from doing a lot of things we wanted to do, physically and financially, and that it would likely be the thing that took her from us far too soon. All of this to say, there was a lot of heavy shit for us all to process, growing up. And my mom and I used our shared love of horror stories to help that processing along. I'm convinced it was her own love of the genre that helped her come to some sort of understanding with the unfairness that surrounded us, without losing her mind. She was always fond of saying "It could always be worse," and horror as a genre is pretty much the embodiment of that philosophy, isn't it?
Long story slightly less long, horror is more than a genre to me. It's a philosophy, it's a crutch, it's a shield, it's a salve, it's a prism, it's a lens. It's life at its most concentrated. And that might sound bleak and depressing, but I think ultimately horror stories are an expression of optimism. To write or consume horror is to exercise a tiny bit of control over our own mortality. It's to say, "I know death and pain and fear are inescapable, so I'm going to come to them on my terms and find a little joy in the darkness."
Plus, I'm of the opinion that any good story is a horror story anyways, because to be a horror story ultimately just means there's something at stake that your character really doesn't want to lose, be it a job, a love, an understanding of life … or an eyeball.
Oof. I told you, I can go on a bit about horror.
---
---
MVU: One of the main characters in in "Jubilee Juncture" is Marvin, a puppeteer for a public-access Christian edutainment show for children. What inspired you to write this character, and what came first: the plot or the character?
NC: "Jubilee Juncture" actually first came about as a short play. I was a staff writer for a gran guignol horror theatre series called The Blood Brothers, which made quite a name for itself in the downtown New York indie theatre scene from like 2006–2016. It's one of my favorite things I've ever been a part of—it was hosted by two hairless, white-faced ghouls (the titular Blood Brothers) who would gleefully present a series of linked short plays in the proper guignol tradition, which is to say full of just absolutely horrific deaths and blood and cutting-edge (pun very much intended) theatrical gore effects. For a while, The Blood Brothers' mandate was that every short play had to be in some way or another inspired by true events, and that's where the idea for "Jubilee" first came about. There had been this real-life Christian edutainment show, and its puppeteer had been arrested for child pornography. When investigators began to really go through the guy's possessions, they found all these staged photos of, like, kids in roasting pans, and they also discovered that he'd been in the process of planning with an acquaintance to kidnap and possibly try to eat a child. The guy maintained that it was all in jest, but it's hard not to think about what might've happened if he hadn't been apprehended when he was.
Once I learned about this story, I knew it had to be the launching pad for a Blood Brothers play (although, I should emphasize: my version is barely based on the facts; it's about as "true" as, say, The Texas Chainsaw Massacre). There was just such fertile ground to explore some deeply horrifying real-life things, like fundamentalism and depravity and that dissonance between pathological purity and monstrosity. My scripts tend to curse a lot, so I was excited by the challenge of writing characters who don't talk that way. Plus, I knew the human-puppet would be a great theatrical effect … which it very much was. The play wound up being pretty infamous in the horror theatre scene, which makes me very proud. (Also, fun fact: the actor who played the puppet came from a religious background and had grown up watching the real edutainment show in question!)
MVU. I really enjoyed the way you withheld information from the audience throughout the piece, including things the characters both knew, such as the secrets they have about each other. Their unspoken history loads the scenes with tension, and the allusions to a dark history lure us in with the promise of finding out. Are the imbalances of knowledge between characters and audience something that emerges naturally when you're writing, or is this a more conscious technique you edit and hone to get right?
NC: I love this question. Yeah, it tends to emerge naturally during the writing for me—and then, of course, it's followed by a lot of editing and honing to make it more purposeful. My first drafts are almost always character-oriented, and scenes often unspool almost like improv exercises; I'll let the characters talk to each other and bits of information will come to light in all sorts of unexpected (to me) ways. It's all informed by my background as an actor—there's nothing more fun than having a secret on stage, and trying to keep your scene partner from learning it until just the right moment.
(This also means, for the record, that my first drafts are always way too long. The first draft of "Jubilee" as a play was probably 5–10 minutes longer than it should have been, which is an eternity on stage, because there were so many moments where the characters were trying too hard to keep their secrets.)
MVU: So, "Jubilee Juncture" has a former life on stage as "Joy Junction." What made you want to adapt it to short fiction? Was there something you felt you could explore better on the page, and were there any surprises for you in the process of adapting it?
NC: For the reasons you mention above, actually! I felt like the slow reveal of depravity and horror would be really fun to experience on the page. I was also intrigued by the challenge of removing the fundamental source of tension that made the play work so well—i.e., that there's an INCREDIBLY disturbing human-sized puppet onstage the entire time that you can't stop looking at. I was surprised at how much sadder the story made me feel in this form. There's a giddy awfulness to seeing it play out on a stage—a part of your brain never quite forgets you're watching people perform, so things like the puppetry or the reveal of what's underneath the mask often got a lot of horrified, uncomfortable laughter, because it's fun to see it executed, so to speak—but without that element, I was struck by the sadness and unfairness of what happens to Marigold and even to Robby. It's a whole new experience.
MVU: Your horror novel debut, Mary, An Awakening of Terror, will be published by Tor Nightfire in July. One theme it deals with is cults, which means I have preordered it already because I am ALL about cults in horror. I'm curious, what fascinates you about cults and religions, and why do you think horror is a good genre to explore them?
NC: Cults are all the rage right now, right?? I've always been drawn to write about religion as an abstract—humanity's relationship with God/mortality/the universe, etc.—but cults are such a specific beast, and I've read SO many books lately that use cults as a plot device, Mary included! And it's not like it was coordinated—they all were likely written around the same time.
Again, I'll try to not go on TOO long of a horror rant, but I'm always so fascinated by examining trends in horror. You've got your classic examples like the atomic creature features of the 1950s, or all the child-horror stories of the 70s and 80s, when the Baby Boomers were finally raising children of their own (and also reevaluating their own childhoods) …
I think right now, we're just coming out of the last big horror trend, which was the zombie boom. That trend cast a long shadow, but it was so clearly reflective of a society traumatized by 9/11. (I'm, of course, specifically talking about America here, because that's the society I'm steeped in.) After 9/11, America was terrified of the concept of suicide bombers (how do you fight an enemy that's not afraid of death??) and then, after invading Iraq, there was this additional realization that the rest of the world kind of hates us (what do you do when you're outnumbered??). Zombies, then, became a handy metaphor for America to start processing empire collapse.
In a lot of ways, we're not as concerned with that anymore—or we've made a sort of peace with it—but cult-horror is actually a really natural next step. It's still fear of the implacable Other, but now the Other is unrecognizable. It could be our family, our neighbors, our political leaders. Cult-horror is all about paranoia, misinformation, conspiracy. And we're living in such a hyperpartisan, fractious environment where it really, truly feels like one half of the population has a completely different understanding of reality than the other. We've watched people we know and love become brainwashed and impossible to talk to, let alone reason with. In some ways there's a comfort to the horror zombies bring, because you can identify a zombie. You can't identify a cult member until it's too late. And for all you know, they're EVERYWHERE. For all you know, YOU'RE the Other now.
So, yeah. I've always loved how horror writers act as their culture's anxiety antennae. It's not that we sit down and puzzle out what the next big subgenre will be. Instead, we just pick up on what's in the air and then, oftentimes, it can seem like it was predictive, as opposed to what it really is: reflective.
MVU. And now my favorite question for people who juggle many roles: What's your daily routine like, and how do you divide your focus between your different writing projects, consuming related art, recharging your own creative batteries, and family or other work etc. Do you have a favorite place or time to write or read?
NC: Oof. It involves a lot of panic and coffee, I can tell you that much. In general, I have to do all my creative, generative writing in the mornings—which sucks because I hate mornings, but I've learned enough about myself that by the time we hit, like, 1 pm, it's well-nigh impossible for me to focus. I can still do more refining-type work in the afternoons, if I'm able to go somewhere where I can shut out all distractions, but it's not until around 10 pm or so that I'm able to really create effectively again. I'd like to get more disciplined and really commit to a schedule that fully takes advantage of all this, but every day is its own scramble to get things done. I'm balancing a full-time day job, as well as a full audition load as both a legit actor and as a commercial voiceover actor. There's playwriting work to be done, screenwriting to do. Random stuff is just always popping up, so I just always have to prioritize whatever's due most imminently (and I need deadlines).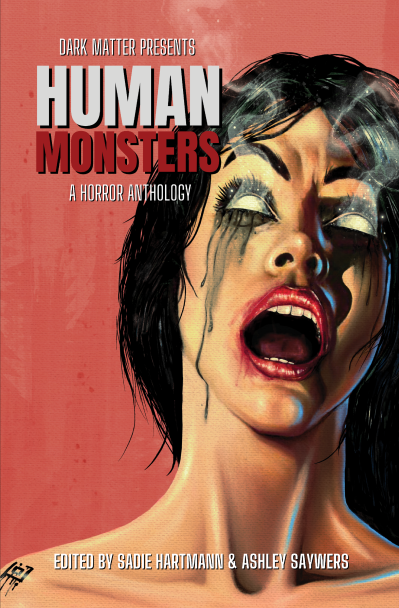 Up until about nine months ago, I was also taking care of two very elderly, very needy pets who required almost constant attention, either for medicine or food or walks. In some ways, it was horrible, because I was severely sleep deprived for almost two full years, but it was also a very clear, inflexible routine that I had to find ways to fit writing in. I think I'm still sort of figuring out what my schedule can be without them around now.
MVU. What other writers or artists are really exciting to you right now? Any favorite new horror fiction we should check out?

NC: Ugh, it's so hard to pick! There's a glut of so many incredible writers out there right now. I will say I am tremendously honored to be part of the Tor Nightfire family, and every other book I've read from the imprint has been phenomenal. I think if it's a Nightfire book, you really can't do wrong with picking it up. I'm also super excited by Eric LaRocca, Hailey Piper, Gabino Iglesias, to name a few. I can't wait for Rachel Harrison's newest or Sarah Langan's newest. I just read Michael Seidlinger's ANYBODY HOME? and think it's in a league with AMERICAN PSYCHO as a sort of deconstructionist, postmodern horror narrative.
Beyond that, I get a lot of inspiration out of film and TV and art. I think Trevor Henderson is a genius. Alex Eckman-Lawn, too. The Indonesian horror film scene right now is incredible.
MVU. Last question: you have another novel in the works, due for release in 2023. Should I get excited for another cult-themed story, or can you tell us anything else about that one? Any other fun projects coming up that you want to share?
NC: It's about vampires! The other big subgenre that seems to be having a resurgence right now! (And vampires are pretty cult-y when you think about it; these mysterious creatures that work in darkness and turn their victims into one of them, while the rest of us puzzle over what's different.)
Well, actually that's a little bit of a misdirection. My book is sort of a new take on vampires, so none of those rules quite apply. The elevator pitch is it's 'Salem's Lot meets Rosemary's Baby. It's a very New York story, a very Jewish story, and also explicitly a post-COVID story (or whatever we're calling this period where COVID is still a thing but we're acting like it's not). I love it, and I think/hope you will, too.
Other than that, I've got a few other writing projects in the works, including a couple features, as well as one horror TV show that got optioned by a major studio and is being shopped around for a network and another that's in the process of being packaged. I'm keeping all available digits crossed that they'll all be viewable one day.
I've also been the script writer for the Shakespeare Theater of DC's annual WILL ON THE HILL fundraiser, which is this crazy, wild event that'll be in mid-June. For the past three years, I've written a brand-new one-hour-long comedy that features a cast of something like 40-50 roles, from sitting Congresspeople and ambassadors to movie stars and theatre luminaries, all about Shakespeare and politics, raising money for arts education. The previous two years raised around $800,000, so if this year's event stays on trend, I'll have helped raise over a million dollars for arts education, which is tremendously exciting.
Oh! And I've got a short story in an incredible collection called HUMAN MONSTERS, which is full of brilliant authors and is going to REDUCE PEOPLE'S HEADBITS INTO COMPOTE. Can't forget to mention that again!
MVU: Thanks so much, Nat! I can't wait for everyone to read "Jubilee Juncture." I'm sure, like me, they'll never look at puppets in quite the same way (as if they weren't already creepy enough, lol). Also, your mom sounds like the coolest. I'm so glad she inspired you to write horror. High-five to all the horror-fiction parents.
---
Dark Matter Presents: Human Monsters, A Horror Anthology, edited by Sadie Hartman and Ashley Sawyers of Night Worms, is available now for preorder with a release date of October 18, 2022.
---
Nat Cassidy writes horror for the page, stage, and screen. His critically acclaimed, award-winning horror plays have been produced across the United States, as well as Off- and Off-Off-Broadway. He won the NY Innovative Theatre Award for his one-man show about H. P. Lovecraft and was commissioned by the Kennedy Center to write the libretto for a short opera (about the end of the world, natch). An established actor on stage and television (usually playing monsters and villains on shows such as Blue Bloods, Bull, Quantico, FBI, Law & Order: SVU), Nat also authored the novelization of the hit podcast Steal the Stars, which was published by Tor Books and named one of the best books of 2017 by NPR. His horror novel debut, titled Mary: An Awakening of Terror, will be published by Tor Nightfire on July 19, 2022, with a second original horror novel on the way in 2023. He lives in New York City with his wife.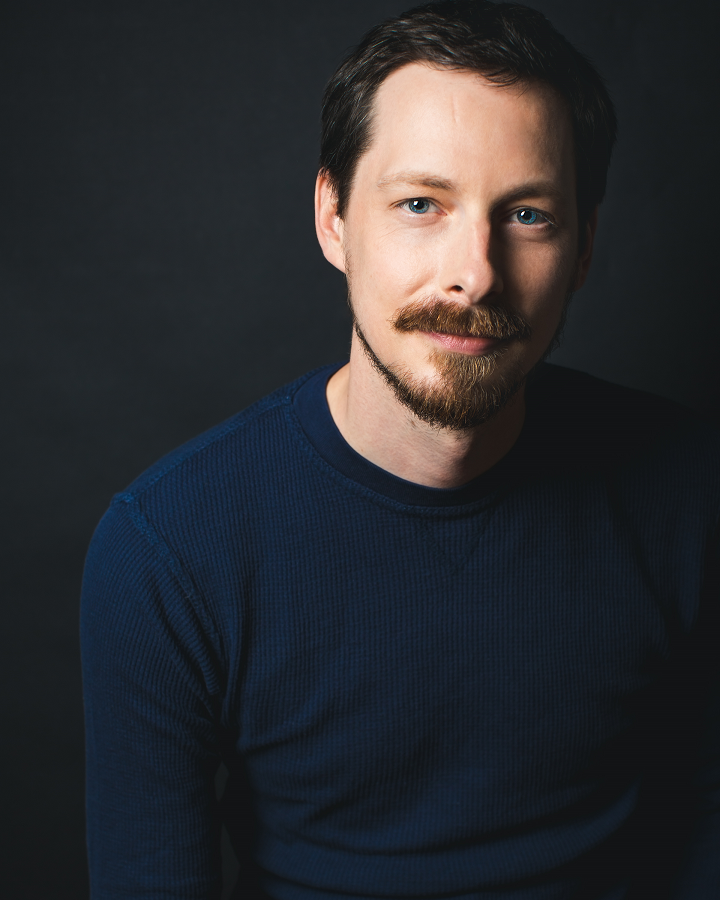 ---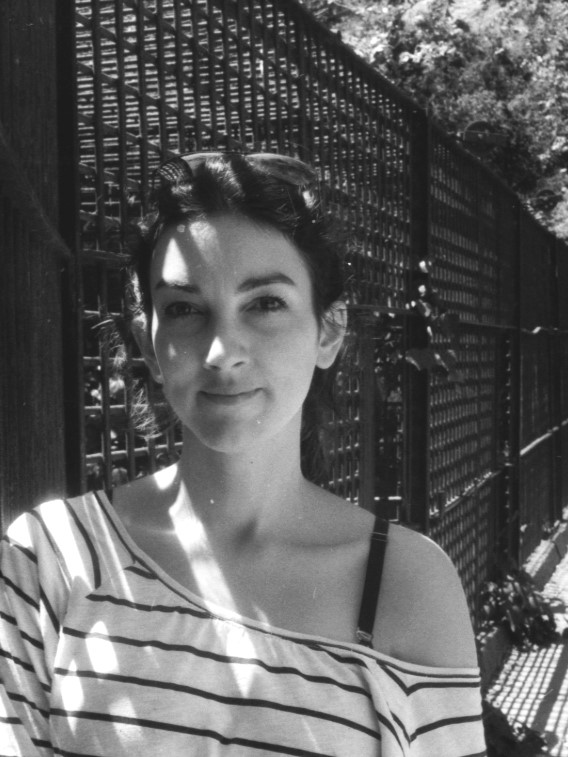 Marissa Van Uden
Marissa van Uden is a writer and full-time editor of dark speculative fiction (especially new weird, eco-fiction, and horror) and nonfiction. Her editing credits include award winners, Amazon #1 bestsellers, National Geographic books, and genre magazines. She's an associate editor at Apex Magazine, an assistant editor at Dark Matter Magazine, and a regular guest on the SFF Audio Podcast. Her short stories appear in Dark Matter Magazine and the Los Suelos interactive anthology. She was born in Aotearoa New Zealand and has lived in Ireland, Germany, and California. These days she's based in rural Vermont next to a woodland pond, where she reads and writes in the company of beavers, frogs, turtles, and other magical beasts.