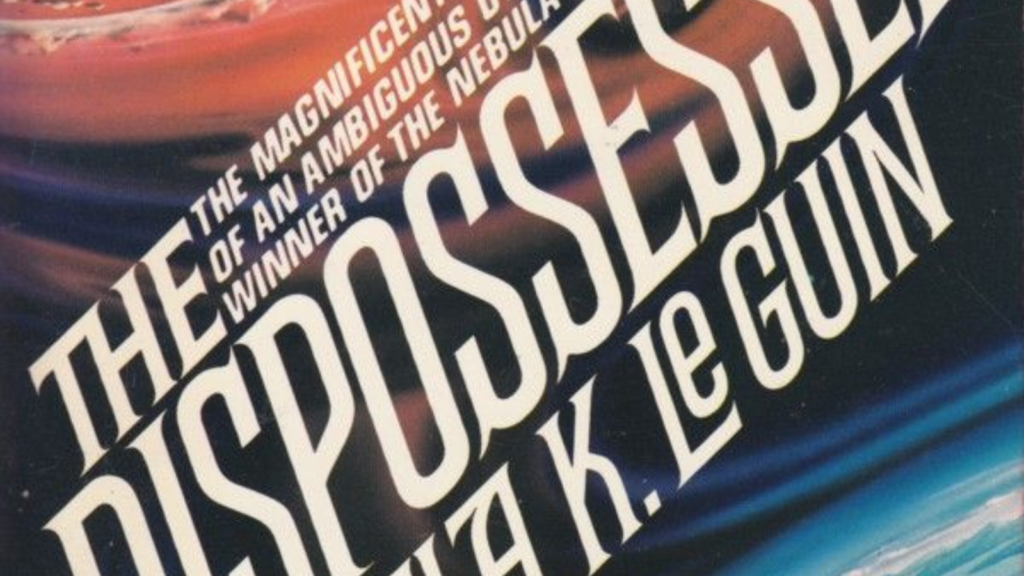 ---
Taoism and anarchism are systems of thought that Ursula Le Guin engaged deeply with throughout her oeuvre. The Dispossessed, her most overtly anarchist work, is reified and beloved for its unapologetically leftist stances. Its Taoist influences are less discussed. Yet when the Tao te Ching is read alongside the novel, and especially when it is applied to Shevek's characterisation, it reveals both the novel's deeply Taoist roots and a subtle hesitancy to fully commit to the ideas it is known for.
The Tao te Ching moves fluidly between broader descriptions of the Tao and instructions for those wishing to seek it. Unified within the figure of the sage, these instructions and life advice form a coherent picture of the ideal Taoist. This kind of Taoist is someone who has moved beyond the struggles of social hierarchy. 'Favour and disgrace,' the text says, 'would seem equally to be feared; honour and great calamity, to be regarded as personal conditions (of the same kind)'. It is the focus on the tangible and the real, 'to satisfy (the craving of) the belly, and not the (insatiable longing of the) eyes', that marks out a sage. This is reflected in how the text expects those ignorant of the Tao to react to it, stating that, 'If it were not…laughed at, it would not be fit to be the Tao'. The Taoist sage therefore emerges as someone modest in speech and attitude. They act in accordance with the spontaneity of their personality, and without much effort, they bring goodness into the lives of others. 'He is free from self-display, and therefore he shines', the Tao te Ching says, and through this, 'With no desire, at rest and still,/All things go right as of their will'.
Every characteristic of the Taoist sage listed above can be found in Shevek. Both on Urras and Anarres, his journey towards scientific greatness is as much marked by his willingness to ignore social convention as it is mastering maths and physics. As early as the age of eight on Anarres, his observations are rebuked as 'egoising' by authority figures. He takes a private room to work on his physics, something he and Anarresti society regard with, 'half disapproval and half shame', and he perseveres through shaming to go to Urras for the sake of his ansible. On Urras, meanwhile, he goes from the whirl of celebrity and capitalist society to getting at its material, political underbelly. He may be fascinated by the, ambassadors, astronauts, physicists, politicians, but he is never above calling a toilet a, shit-stool. This is especially evident when Shevek attends an Urrasti party and explains his theories of time. Shevek talks about it spontaneously, as a natural part of the conversation. It is through his spontaneity that he is shown at his most eloquent, as once he gains a genuine listener, he, 'plunged in' to the topic, discussing how, 'time goes in cycles', like, 'a planet revolving'. But it is important to note that Shevek is not speaking about physics here to draw attention to himself. He speaks about it for the love of the subject itself. It is when someone attempts to cast him as a fool that he returns to defending his own ego. Crucially, this is when Shevek gets properly drunk, and when the conversation breaks down into an argument. Like the Tao being laughed at, so too are Shevek's theories of physics mocked and dismissed, in explicitly capitalist terms: 'what industry needs is answers'.
Both the Tao te Ching and The Dispossessed are literary works. As such, the similarities in how they frame their ideas are just as important as the ideas themselves. One of the most recurrent motifs within the Tao te Ching is the concept of cycles and cyclical thinking. The text equates intelligence with accepting that, 'All things alike go through their processes of activity, and (then) we see them return (to their original state)'. If the Taoist gains power from their interest in the real world, regardless of others' opinions, the Tao gains its power from effortless movement made effortless by accepting the movement and paradoxes that exist around us.
It is important to Shevek's portrayal as a Taoist sage that his most defining traits are demonstrated both on Urras and Anarres. Just as the Tao te Ching rests on the idea that life moves in cycles rather than straight lines, so does Shevek's arc. Repeatedly, it is emphasised that Shevek's journey to Urras is not only a voyage outwards, but one arc in a circle. As the first of his society to come back after they broke away, Shevek is returning as well as leaving; he is the first man from the moon. 'He would always be one for whom the return was as important as the journey out', and of course his eventual return marks the final scene in the novel. It is the undertaking of this cycle that allows him to complete his ansible. Yet it is not just this cycle that leads him to scientific greatness. Shevek's intellectual and scientific development is not marked by the gaining of this or that honour or achievement, but chronological milestones – childhood, adolescence, young adulthood, entering a long-term relationship, having his first child. This is significant because the cycles the Tao is stated to rest on are natural cycles, the cycles of life, birth, death and time. Structurally, the novel backs this up. The chapters alternating between Anarres and Urras create a cyclical flow between both worlds for the reader. The chapters alternating between Shevek's past and present, in a neat demonstration of his theory of time, makes the past and present equally relevant for the reader.
Both explicitly and implicitly, the Tao te Ching characterises the spiritually enlightened as, at the very least, middle class. The ability to move beyond social hierarchies as it instructs is granted by not needing to rely on social hierarchies materially in the first place. According to the Tao te Ching, a Taoist sage should keep ordinary people, 'without knowledge and without desire', as he 'empties their minds, fills their bellies, weakens their wills, and strengthens their bones' in service of 'keep[ing] them from presuming to act'. This frames the ideal Taoist as someone with significant political power, someone set apart from and socio-economically superior to the general populace. It endorses upholding existing systems of power, and excludes working-class people from spiritual enlightenment.
At first glance, Shevek subverts this. But a closer read of his characterisation reveals more conformity to these aspects of the Taoist sage than the novel initially suggests. Rather than being characterised as a physicist and manual labourer both, taking shifts of physical labour as his anarchist society needs it, Le Guin characterises him as a physicist who happens to do manual labour. As a teenager posted to an afforestation project, he complains within his internal monologue that, 'Any fool could do this work…He found the workmates dull and loutish', and that he feels, 'scornful and resentful' of the physical labour. This could easily be written off as teenage dramatics. But Le Guin goes out of her way to confirm Shevek's judgemental attitudes as correct. Less than a page later, one of the permanent labourers starts a fight with Shevek over nothing, sneering, 'You're one of those little profiteers who goes to school to keep his hands clean'. Even within a society where the class system and the profit motive has been abolished, Shevek is still characterised as having some fundamental difference from permanent physical labourers, something that sets him apart from and above them.
All important aspects of The Dispossessed and of Shevek's characterisation are replicated on both Anarres and Urras. It is within one of the most famously leftist scenes in the novel that Shevek's status as separate from ordinary people is reinforced on Urras. Shevek's participation in the general strike is as a propagandistic rallying point for the city's working classes. He may be, 'anarchism made flesh', but he can be a lightning rod for political feeling because of his status as sage, as a famous scientist. Shevek is a singular figure on the stage, but the crowd are dehumanised. They are referred to not as 'them', but as 'it'; they are 'the particles of atomic physics', 'the passage of wind over a sunlit field of grain'. While Shevek's having been 'bought' is extensively discussed, he is also characterised as having a significant amount of political influence on Urras; he walks among 'ambassadors, astronauts, physicists, politicians'. Curiously, however, he never thinks to use this power, to influence the police presence on the day of the strike or do anything genuinely strategic. Instead, his speech functions exactly as the sage's distractions in the Tao te Ching prescribe: keeping people from presuming to act, keeping them standing still as the helicopters approach them and the machine guns fire.
Through Shevek, Le Guin politicises spiritualism and scientific advancement, while casting Taoist spiritualism as an intellectual and political project. Her balanced approach to all these topics is unmatched in science fiction. However, it is exactly this interest in casting Shevek as a Taoist sage that makes The Dispossessed less leftist than it is commonly read. Ursula Le Guin wrote about a society where beggars and jails were something children could barely even imagine, but when confronting what makes an individual capable of intellectual and spiritual achievement, she was less willing to fully commit to her stated politics.
---