By some accounts, the clarinetist's origins lay in the desert. In Phoenix or Tempe or another such grid of roadways and parched concrete gullies. Some likened him to a shaman, a sorcerer working in subtle intricacies and procedures, though this was emphatically not the case.
Had he been able to verbalize it, the clarinetist might have said he was merely "doing what came natural."
That mad horn-blower, that itinerant chaos demon! He carried nothing but the clothes on his back, his sunglasses, and of course a plastic instrument case spraypainted gold. He modulated his volume and tone and modality and rhythmic density to suit whoever crossed his path.
He snapped their lives in half, Before and After.
They tell of his presence in Columbus, Ohio, blowing his rubato blues examinations on the sidewalk before a Presbyterian church, a soon-to-be abandoned temple with a blazing orange sign staked out front.
FOR SALE, it said, CHURCH 13,000 SQ FT.
Out of the church doors came Johnathan Burkhart, aged 20, and Lydia Hecht, aged 19, carrying large paper sacks.
Lydia, a pretty brunette in cardigan and turtleneck and silver cross pendant, said to the clarinetist, "We think that's really great what you're doing."
"Are you hungry?" Johnathan asked, proffering the contents of his bag. The clarinetist reached in and ripped open a packet of Chex mix.
"Can we pray for you?" asked Lydia.
The clarinetist chewed, swallowed, and put his horn to his lips as if to say: I play, you pray.
Johnathan went first, eyes closed, clutching Lydia's hand, blessing the clarinetist, giving thanks for the chance to witness to him, asking the Lord to show the clarinetist how badly the Lord wanted to be a part of the clarinetist's life and so on. Lydia offered blessings sweet and eager, and the clarinetist accompanied her with hushed, flutter-tongued lines, mocking the cadence of her speech.
"Can I give you a hug?" she asked, and consummated the embrace even before any consent was granted.
"We'll keep you in our prayers," Johnathan said.
Days later, the two were led to temptation. Johnathan in particular had yearned for this instant, their religious schooling notwithstanding, and after months of timid "fooling around" (as it was still sometimes called), Lydia allowed him to penetrate her in his Nissan Maxima station wagon, laying with the backseat folded down, rupturing her hymen, taking his virginity.
A minute later it was finished, and both imagined they could still hear the clarinet, deranged and seductive, somewhere beyond the darkened car windows, though neither would confess such bizarre imaginings to the other.
And every night for the following weeks until her period came, Lydia had the same dream.
She dreamed the doctors cut something out of her, an abomination with the head of a kitten covered in birth-slicked fur, and the flat pinkly-veined tail and multiple tiny appendages of a jumbo shrimp.
Thus began her estrangement from both Johnathan and the church.
***
Some say Cincinatti is a shitty town, with shitty people. The nice people all stay home, they say, and never go out because they know how shitty their town is.
But the clarinetist did not conceive of things in those terms.
Landon Willmer, age 22, rode past him on his bicycle, the new flaming-dice tattoo on his left arm still black and wet and tender at the edges.
"Nice sunglasses," he shouted.
Ah, the sunglasses! So feminine and stylish, cat's eye and tortoise-shell and dark green crystal lenses. Nice they were indeed, though Willmer's tone of voice was not.
A few blocks away, by what he assumed was some great coincidence, he saw the same sunglasses on another man standing at an intersection, waiting for the light to change.
When he arrived home his girlfriend was in the living room wearing those same sunglasses.
"What sunglasses?" she asked. "Baby, what are you talking about?"
They were everywhere he looked, Wilmer later told the doctors. Illusory eyewear worn by everyone he met. A barrier of green crystal cool that would separate him from the gaze of loved ones and strangers alike, from entire swaths of the human experience.
He would never look another person in the eye again.
***
If the clarinetist ever felt any remorse at the chaos he wrought, there was no outward sign in his person, his parsimonious posture and gait, no glimpse behind the dark green lenses.
But the seasons were changing. The cold was chasing him, an incessant tension in the sky.
Languid sparkles began to emanate from the horn, toxic airborne glitter that spread through the atmosphere. Much like when torrential rains wash excess nitrogen or phosphorus into the water causing harmful blooms of blue-green algae, his music left the air tainted, tinged a turquoise shimmer. Some outrage of excess was being committed, though an excess of what was not clear, nor where, nor what the aftermath would be.
Tired and hungry, agitated now, our clarinetist moved northward against the cold, a counter-intuitive headlong flight.
Tompkins Square Park. Every leaf fell from every tree as the sound of his horn pierced the day. A chemotherapeutic scourge, indiscriminate, denuding the landscape of sick and healthy foliage alike. He made $4.50 that afternoon, an assortment of coins, mostly quarters and dimes.
Across the river in Williamsburg cutesy new restaurants and cafés were popping up every-fucking-where. That same night he stood on a street corner, retching forth his tea-kettle shrieks, until a gaunt face draped in straight gray hair beckoned to him from a second-story window.
"Don't worry, you're not bothering me," the woman said. "My neighbor's dog, maybe, but not me. I kinda like it. Do you know 'Auld Lang Syne'?"
The clarinetist shook his head, still biting into his mouthpiece and shrieking.
"Do you want to come upstairs?"
She awaited him in an armchair, behind a haze of incense and tobacco smoke. She was, or had been, a poet, she explained. The old poet, whose first and last names were no more and no less important than the clarinetist's, had come to live here thirty years ago, for reasons she said would now sound outlandish. She studied him, perceived him, with the beautiful asymmetry of her eyes—one drooping, one slightly wider open, her gaze half-weary, half-alert.
A wine glass and bottle of cheap rosé stood between them on her coffee table.
"Feel free," she said.
The clarinetist grasped the bottle. His hand quivered with an unaccountable tremor.
"Freedom is like that," the old poet said.
"Like what," the clarinetist asked and, hearing himself speak for the first time in his short life, was disgusted by the reedy, craven sound of his own voice.
"Freedom assumes its real, flesh-and-blood figure in the world when it thickens into pleasure, into happiness. If an old man, or woman in this case, cannot find satisfaction in drinking a glass of wine, for example, then what good is freedom?"
The clarinetist sipped straight from the bottle. "I don't know," he said.
"Simone de Beauvoir said that. Something like that. Or at least I think it was her." She wiped a scrawny, liver-spotted wrist across her lips. "Do you know Travis?" she asked.
"I'm new in town." This was true, here and everywhere. "What's he look like?"
"I don't know," she said. "Looks like a good kid. Kind of like you."
With bony hands that smelled like cigarettes she reached for his sunglasses and took them off.
His eyes were bloodshot, pinkly-veined, and glowing jade green.
"I am going to make love to you," she said.
They smeared their mouths together, braided their flesh together young and old in a desperate slow dance. She made hardly any noise. Some unplumbable depth offered itself, one the clarinetist could not fathom.
Afterwards the poet sent him on his way, south and west, back from whence he came.
The last anyone saw he was wandering the streets in Texas somewhere, past schools and tennis courts and cemeteries, blowing harder than ever, but only silence poured out of his horn and into this world, a world as unworthy of his blessing as it was his curse.
---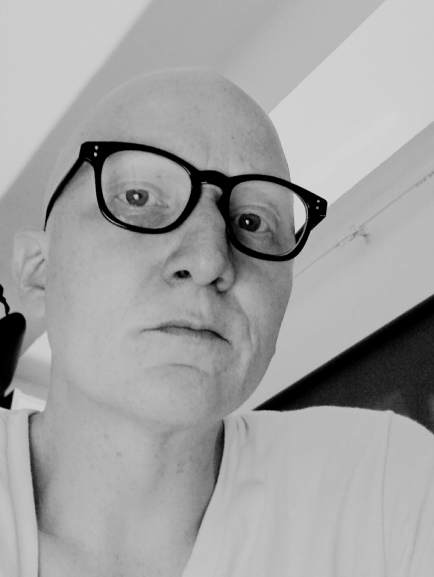 NM Whitley
NM Whitley is a writer, teacher, musician, and translator based in Barcelona. His work has appeared in venues such as The Barcelona Review, Andromeda Spaceways Magazine, and Ideomancer, among others.