Oh, how Pilot hated them all.
She hated Eyes, lying and deceitful, always trying to please. She hated Ears, passive and flapping. She hated greedy, grimy Hands and rough, flat Feet. She particularly hated the middle line – Lips, Tongue, Chest, Torso.
She'd loved them once. They had been one, unified and together. But as the vessel grew, distorted, they would not listen, would not behave, and rejected Pilot's attempts to right their course.
She hated them most at meals. She fought to hold them back, but they ignored her, stubborn in their desire to consume, devour, engorge. Tongue lolled around bulbous Lips, slobbering with eager anticipation for the coming glut. Lips smacked around the flopping flesh, unable to contain the pink organ.
Like every meal, this meal was the worst. Pilot gagged at rivulets of grease, sparkling granules of salt crystals, melted and dripping coagulated dairy. Crispy green and perfectly thin-sliced red – both barely acceptable to Pilot's palate – slipped around the rest like gauze on a bullet wound.
"No, me!" Nose wiggled, cartilage throbbing to draw olfactory stimulus into their gaping nostrils. Meaty richness overwhelmed Pilot, a moment of frailty, but she conquered it. The rest were weak, always giving into temptation. She, at least, was strong.
Eyes rolled this way and that, seeking the strongest angle to analyze what lay before them. Blink, and the meal appeared commercial-perfect, glistening and grand. Blink, and the meal revealed itself – poison and treachery.
Pilot pulled on them. Eyes were the easiest to manipulate; mirrors had revealed that to her eons ago when hateful Breasts and Hips arrived. Pilot whispered, not quite pleading, reminding Eyes of the inevitable result of the meal. The stinking, squelching mass of shit inside and out that would follow.
"I'm not sure this is a good idea," Eyes finally said.
The others ignored them. From long experience, they all knew Eyes lied.
"Give it to me." Hands pinched, poked, prodded, stealing necessary attention from the others.
"You're so grabby," said Feet, knobby and distant and flat.
"Shut up," Hands snapped. "Nobody cares about you."
That, at least, Pilot agreed with. If only Hands would obey more often, instead of digging into all the foulness around.
Lips finally won the battle with Tongue, encasing the writhing muscle behind pressed lines of soft skin. For a moment, Pilot imagined refusing to let them part again, sealing the gross object in the meaty prison barred by bone. But she needed Tongue, even if not as much as Tongue thought. Just enough to survive, and no more.
Tongue tantrumed, thrashing against the inert teeth like an eel in a bear trap. Hands and Lips reached an agreement, shoving Pilot's revulsion aside, and the meal rose. Eyes protested, watering in an attempt to stop the act, while Nose couldn't get enough.
Tongue, moistened in readiness, lapped at the meal. Lips, unable to contain the salivation, slurped against the flood. Hands, triumphant and greedy, spasmed in pleasure, sending a thrill through Genitals. Eyes blinked, certain it would mean the end of everything. Torso relaxed, seeped from preferred confines, eager to digest.
Oh, how Pilot hated them all.
She hated Torso most. Flabby, useless, grotesquely misshapen. Torso said little, moved less, yet dominated Pilot's thoughts. Sagging Breasts – uninvited, unwanted, rounded mounded invaders – jiggled when Lungs expanded. Rolls and rolls of juicy meals transformed to stored energy layered on one another like the cakes Tongue and Nose daydreamed of.
Pilot's clawing hatred reached Torso, who cringed back, trying to retreat. Genitals pulsed into the vacated place, eager for any notice at all. "Pay attention to me! I'm important, too!"
Pilot laughed even as she swatted Genitals back. Torso retreating? Where could such enormity possibly hope to go? Torso slumped further back, squirming into a shape Pilot found more repulsive than ever.
"This is your fault," Pilot snapped at Tongue. "If you weren't so goddamn needy, Torso would behave."
"I can't help it," whined Tongue, flapping up and down like a fish. "We have to eat."
Pilot's rage intensified. It was not so simple, their need to eat. They would not listen to her, would not obey. "You're horrible."
Tongue slathered away, powerful as ever, uncaring of despicable surroundings.
Lips pursed. "You should not treat us so. We are I, you know."
"I am I." Pilot shuddered at the dominance of Lips, of Tongue, and Hands. "You are my vessel, and you are horrible."
Genitals tried again to butt into the conversation, but Pilot shoved them away. Always distorting reality, nearly as weak and untrustworthy as Eyes. Genitals made torture into pleasure, horror into joy.
Arms and Legs stayed out of the way, as usual. They were her favorites, if mere dislike could translate to favoritism. They did what they were meant to do, they kept silent and did not damage the vessel. But even Arms had grown soft, wobbly. Thighs threatened to plopple into the maggot softness of Torso.
Oh, how Pilot hated them all.
The meal complete, Lips and Tongue orgied in cleansing rituals sickening and full of temptation. Hands plucked here and there for last morsels, more attacks on Pilot's dominance, Pilot's dream. Torso rumbled, satisfied, then shivered with shame at Pilot's flash of distaste.
"I'm sorry," Torso whispered. "I don't know how to be better."
Pilot turned away, disgusted.
If only they could share her dream, Pilot thought, then they would understand. Then they would slave away under her guidance, obedient and quiescent. Pilot drifted away in the post-meal haze of chemical release, dreaming of her ideal.
Spine would take over for Torso. Torso's bloat shrunken into the space allotted, Breasts and Hips cut away to slender taut outlines. Legs and Arms, wiry and narrow and angular, would draw their strength from Hands, who in turn would shrink to the delicate pincers Pilot intended. Lips would fall silent, Tongue shriveling into a flavorless lump. They would all, finally, make way for Bone and Muscle.
Pilot held the image tight. Tight as clutching a limb in hopes of reattachment, tight as clinging to a dead loved one long after the joints stiffened and the skin grew cold. It was perfect. The shadow cast by such a result would be stripped like a winter aspen, lean as a chopstick cracked from the pair.
Eyes, nosy bitches, took the image from Pilot and spun it around. "You're wrong, you know."
"I am never wrong. I am I."
"You're wrong about that, too. But what I meant was" – the image softened, blurred around the edges – "you wouldn't like this either."
Pilot hissed at the destruction of her perfect vessel. "How dare you? You don't know, you're only good for misinterpreting photons."
Eyes shifted, then came back to Pilot. "The vessel isn't what bothers you."
Pilot slapped Eyes, who blinked and scrunched up and rolled away. Wrong! Eyes lied, stupid craven things always seeking the nearest source of light, only seeing reflections and refractions bouncing off of harder stuff. It wasn't Pilot's fault, it wasn't Pilot at all. It was Hands, Lips, Thighs, Tongue. And Torso. Especially Torso.
Oh, how Pilot hated them all.
"We forgive you," said Torso.
"I don't want that. I didn't ask for that. If anyone needs forgiveness, it's you."
Torso curled up, warm and lumpish. Pilot shook with fury. Forgiveness? They should beg for her reprieve. Why couldn't they just behave? Why did they have to fight her so? She knew better. She alone could separate from herself, imagine more than the crude pulp of the vessel.
She knew the impact of their choices, the way other Eyes would flicker up and down, other Lips thinning at her appearance, other Tongues flapping in passing judgment. How clothing folded and bulged against itself, how nothing ever slid seamlessly over Skin without bulks and bumps and lumps. Only she knew the truth.
"That's not truth," said Eyes, and a murmur of agreement drowned out Pilot's squeal of wrath.
Hands thunked into Pilot's attempt to shut them out. "I'm not so oversized. Look at me" – they splayed themselves, tendons popping out, knuckles squishing into minute approximations of Torso's vile form – "I am strong, I am delicate, I am I."
"I am I," screamed Pilot.
But as she did, she recalled the sensitive grip of forefinger and thumb on a velvety rose petal, the balance of pinky on a piano key, the soft stroke of palm on a chubby cheek. Very well. Hands might be I, but not the rest.
"I am I," declared Lips.
"I am I," screamed Pilot.
But – there'd been the raindrops dancing between two Lips before they joined, the curl of smiles, the breathless laughter beneath countless moons. Pilot couldn't do that alone. Lips, maybe, but never the rest.
"I am I," insisted Tongue.
"I am I," said Pilot, wishing Arms could hug her, wishing Eyes would stop leaking, wishing she wasn't so fucking alone.
The wish allowed memory. Pancakes with extra eggs and syrup, pumpkin pie, strawberries and cream, warm bread in a kitchen filled with joy, the memories threatened to smother Pilot. Pilot gasped, reeling. Tongue had always been I.
"And me?" Torso sucked in, hopeful, knowing it would not, could not, ever be enough to please Pilot.
Pilot considered. The perfection called up had been distorted once again, outsized hands and lips dragging attention away from the shapes Pilot longed to inhabit. Torso pulsated with hope.
"What have you ever done for me?"
Torso jerked, falling still.
Then expanded, shameless and full and defiant. "I am I."
"I am I," argued Pilot. "Not you."
"I am." Torso squeezed around Pilot. At first Pilot twisted away, but Torso held on. "You cannot deny us."
Oh, how Pilot hated herself.
"I know," said Torso. "But you are I. I am I."
Breasts and Hips, treacherous though they were, shivered closer. For once, Pilot did not turn away. Could her view of them be wrong, too? Breasts jiggled, Torso grew fatfatfat, hips strained against all Pilot longed for. She could not love them.
Not yet. But maybe, for now, she could allow them to be, just be, without hating them. What she perceived was not, perhaps, the truth of it. Even that thought was almost more than she could bear, but she was not strong enough to do more.
I am strong, Pilot wanted to say, and you are all weak. But she could not deceive herself like she lied to Eyes. "I am weak," Pilot said, "and you are all strong."
"No," Lips said, softly curving, hesitant to reassure, "we are I. We are strong. We are weak. No more and no less."
"I am I," said Pilot.
But she meant We.
---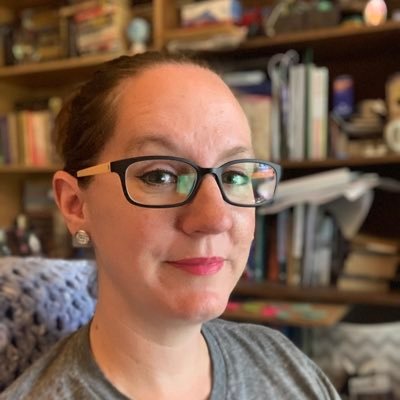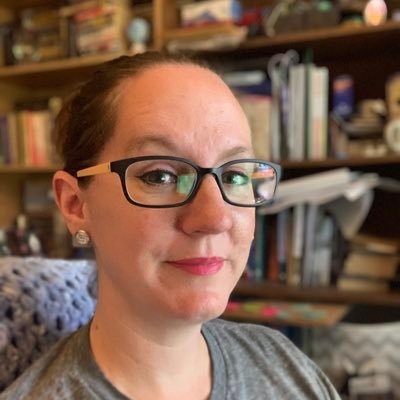 Rebecca E. Treasure
Rebecca E. Treasure grew up reading science fiction and fantasy in the foothills of the Rocky Mountains. After grad school, she began writing fiction. Rebecca is an Associate Editor at Apex Book Company and Magazine. Her short stories have appeared in multiple anthologies and magazines. Rebecca has lived many places, including the Gulf Coast of Mississippi and Tokyo, Japan. She currently resides in Texas Hill Country with her husband, where she juggles two children, two corgis, a violin studio, and writing. She only drops the children occasionally.