In 2021, Portuguese author Mário Coelho made a splash with his short story 'Ootheca' in Strange Horizons. 'Ootheca' is the tragic tale of a man who wakes up with cockroaches for teeth, and his attempts to find companionship in an unstable world where sunlight is rationed and citizens are only ever one sleep away from being cursed by the looming presence of a societal sleep paralysis hag. Now Mário is back with a new Weird-Cyberpunk Science Fiction novella, Unto the Godless What Little Remains. He was kind enough to join us to talk about the book, techno-pessimism, why we need working class stories, and his frustrations with the lack of translated fiction in the anglosphere.
Jonny Pickering: The main reason I've got you here is to talk about your weird new sci-fi novella, Unto the Godless What Little Remains; tell us about this book in your words, because the concept is batshit and I want to know what made you write this story?
Mário Coelho: Thanks for having me. Quick synopsis of Unto the Godless What Little Remains: after a massive data breach leaks everybody's personal information and nudes online, a super-intelligent AI called Big Momma is tasked with overseeing the entire internet. Unfortunately, Big Momma seems more interested in stalking a man addicted to injecting himself with temporary personalities. The reason this is happening will blow your mind #clickbait.
I began this story as a writing exercise, if I'm honest. It was one of the first things I wrote in English and I was just having loads of fun exploring the stylistic possibilities. English is a beautifully liquid language.
Unto the Godless What Little Remains is fundamentally a story about our malign symbiosis with the internet, how we've surrendered big chunks of our identities to algorithms curated by socially inept nerds in Silicon Valley. And there's also a sappy love story buried in there, because I'm a sensitive, unfairly handsome man.
Reading it, I was reminded of that early Gibson cyberpunk, the feeling I got when I first read Neuromancer. Not the style specifically, but the same way of throwing the reader headfirst into a bizarre and changed future world that has just enough about it to remain recognisable. Did those cyberpunk pioneers influence Unto the Godless at all? Who would you cite as influences, if not?
I wasn't aware people saw it as cyberpunk until I read the first review of the book, in The Times, which said: "Just when you think cyberpunk has finally keeled over and died, some young tyro kicks the tires and gets to speed round the block causing mayhem." I don't know what a tyro is, but I embraced the book's identity as cyberpunk for greedy marketing purposes.
I haven't read Gibson, but Neal Stephenson's Snow Crash is one of my favourite books of all time. However, to be completely honest, my most formative influence was my shameful stint as a tech-utopian in my early twenties, during which I read a lot of Technological Singularity circle jerk books.
Now I think the future will suck. Unto the Godless What Little Remains depicts one of my most optimistic scenarios, in fact: a boring anti-utopia sustained by the shit silver-linings of surveillance capitalism. Our attention is valuable. Giving us housing and food and free time is a smart investment. It allows us to contribute more to the ouroboros of feeding the algorithm our data and consuming what it regurgitates back.
In this way, I can see how Unto the Godless What Little Remains could be defined as modern cyberpunk, in that it's substituted "high tech, low life" for "high tech, numb life". There's no fighting back against the bad dudes because you don't even know who they are, plus you're afraid of losing your hard-earned bare minimum anyway.
You're one of the very few people I've seen write a good internet story. Most contemporary stories that try to incorporate the internet are unsatisfactory and come across incredibly shallow to me, but you pull it off. Why do so many internet stories ring hollow and how did you do it so well?
Thank you! That means a lot.
It's a great question. Just spitballing here: most internet stories ring hollow because there's still a lot of ignorance – denialism, even – regarding our co-dependent relationship with the internet. A mobile-focused market data company called Data.ai recently estimated we spend 4.8 hours daily on mobile apps. You transport any of us to the early 00s and we'd be called addicts. The reason we're not is because everybody suffers from same.
With things like (non-mobile) videogames and TV, you're mostly a passive consumer. The content exists and you're just reacting to it, usually in a specific room in your house. Mobile internet, however, goes with you everywhere. And you're encouraged – sometimes required – to participate. 3.6 of those 4.8 hours mentioned above are spent on social media. I'd wager the average writer spends even more time than that.
To write a good internet story you need to be self-aware that you're just one more of the schmucks ensnared by a bunch of 0s and 1s. And there's a certain degree of narcissism inherent to writing, so this won't give. There's romanticism in pretty much every character flaw except banality. So I reckon most internet stories fail because the internet is depicted as a thematic overpass and not a force in itself. It's not organically entangled with the characters, it's just a backdrop to some other theme.
I'd love to sing myself praises, but to be honest whatever self-awareness I hopefully have comes from being from a tiny culture with zero soft power. When I go on online I mostly see and read stuff written in other languages, other cultures, mainly English language and American culture. When I log off, the world is Portuguese again. There's this dissonance that I reckon Anglophone writers won't feel as much. The anglosphere has a bigger cultural and linguistic continuum between the online world and the real world.
That said, the book I've read that depicts this dissonance most effectively is Patricia Lockwood's No One Is Talking About This. And if you're up for something completely disturbing, I also recommend B.R Yeager's Amygdalatropolis.
You're incredibly passionate about increasing the readership of translated fiction in the anglosphere. Why do you think translated fiction still fails to get much traction, even in a marketplace seemingly committed to promoting diversity?
Because most people aren't truly interested in diversity. It's not an insidious thing, just a consequence of overwhelming soft power. Readers will see other cultures depicted, at best, through the lens of Diasporan writers (which, to be fair, is an improvement compared to what we had before). There is no cultural curiosity, just window dressing. It's the literary equivalent of saying you're into Indian cuisine because you love chicken tikka masala.
Less than 5% of the world speaks English as a native language, and yet fluency in English is practically a prerequisite for commercial success. Only about 3% of books published in the US are translations, while in countries like Italy it reaches up to 50%. Italian writers are competing with Anglo writers, but the opposite isn't happening. The vast majority of brilliant writers are out there, yet to be discovered. They're simply speaking the wrong language.
I don't even blame publishers. Publishing is a business, and I don't think anybody goes into the fiction business looking to get rich. Editors are probably legitimately interested in bringing in more translated fiction. But it just doesn't make financial sense. Most books don't break even already. Imagine having to pay a translator on top of that.
The problem is lack of reader interest, which is cultural. In countries like Italy the translations pay for themselves because there's this idea that "if it gets to be translated, it must be successful, ergo it must be good." This doesn't happen over there. A few cultures, like Japan's, have managed to catch the interest of the anglosphere, but those cases are rare.
Diversity in the anglosphere SFF fiction world means diversity from within the anglosphere. Well, that is unless we start talking class, which is the one non-linguistic diversity nobody seems to want to address. Most writers seem to come from well-off, educated backgrounds, and many of the entryways into the industry, like cons or writing workshops, are geographically and financially gatekept. The most famous SFF workshop requires you to be on-site for six weeks. How many people can afford to take six weeks off their jobs?
There is a recognisable absence of working class perspectives in mainstream contemporary SFF particularly, and I think it affects the kinds of stories that are told – or at least the ones that get all the marketing and internet buzz. What do you think working class voices bring to the table and what kinds of stories would we see more of if we had more fiction from working class writers?
Working class voices would bring realness and universality to a highly gentrified field. Most people worry about money. It's a great equaliser across all demographics. Being broke – or even just living paycheck to paycheck – has a bigger material impact on your life than almost anything else, and in fact influences everything else. Any kind of disfranchisement gets worse when you have to worry about rent. This is something most people in the world have to deal with, even in the majority of western countries. Most SFF depicts capitalist societies, but the main characters are often immune to the slice-of-life anxieties of capitalism.
Then there's the question of education. Only about 37% of Americans aged 25 and over have a college degree of some kind. I reckon the numbers are very different for SFF writers. And their stories reflect that. The characters often sound like they're magically attuned to the discourse of our times. This is partially due to the puritan paradigm that depiction is endorsement, but also the simple fact that highly educated urbanites – likely the majority of SFF writers and publishers – live in a very specific bubble. And the bubble is often simply New York. The world is a large place, yet in the last 10 years there have been at least two Hugo-nominated/winning novels about this one city in this one country. Working class people deal with people of all kinds, with qualities and flaws that modern SFF respectively underappreciates and underrepresents.
Which translated books would you recommend that are already out there, and what are some that haven't yet been translated, but deserve to be?
It's been getting a lot of buzz, fortunately, but I'll add my voice to the choir: please read Giorgio de Maria's The Twenty Days of Turin. It blows my mind how a book written in the 70s managed to predict social media with such accuracy, and that's not even the best thing about it. The ending left me awestruck.
Saramago is also far from overlooked, of course, but I think The Gospel According to Jesus Christ and Cain deserve more attention. Both are biblical retellings with God as a villain, the former told from the perspective of Jesus and the latter of Cain. Death with Interruptions is also marvellous. A story about what would happen if people stopped dying.
As for modern, mainstream-ish SFF, mainly horror, I really recommend The Gray House by Mariam Petrosyan, Tender is the Flesh by Agustina Bazterrica and The Hole by Pyun Hye-young.
Semi-related, but if you're into comics or graphic novels I definitely recommend you check out more bande dessinée. You can't go wrong with anything by Moebius, and I also rec the series 'The Obscure Cities' by François Schuiten and Benoît Peeters. The art is, in my humble opinion, much more intricate than what you usually find in American or Japanese comics.
As for stuff that's not yet translated, I'm reading this marvellous book set in Roman Lusitania called Um Deus Passeia na Brisa da Tarde (A God Walking in the Afternoon's Breeze), by Mário de Carvalho (not related!). No chance it'll get translated, though.
There is, however, a Spanish translation of João Barreiro's A Verdadeira Invasão dos Marcianos, published as La Verdadera Guerra de los Mundos (The Real War of the Worlds). In this book, Júlio Verne and H.G Wells get stranded on a Mars occupied by the Earth military industrial complex who kicked out the invading Martians. Barreiros is a massive, criminally overlooked talent. Terrarium, which he co-wrote with fellow Portuguese author Luís Filipe Silva, is one of the most important works of Portuguese SFF.
Another Portuguese-language book I'd love to see translated is Maria dos Canos Serrados ('Sawed-off Mary'), by Ricardo Adolfo. Hilarious transgressive fiction, told from the 4th person POV of a woman and her vagina, who're looking for revenge after being spurned by their gigolo boyfriend.
Fantastic. Finally, what are you working on now that Unto the Godless is out in the world? Any half-scribbled drafts or weird ideas in your head you can share?
I'm working on a novel tentatively titled Who You Are in the Dark. In a future Earth mutilated by the nonsensical whims of a dead Lovecraftian entity, a guy whose own skin keeps slipping off stumbles upon a conspiracy involving drugs that make you jizz non-stop, and the trafficking of human wombs. It's set in the same world of 'Ootheca', my story in Strange Horizons about a guy with cockroaches for teeth going on a date.
When I'm done with that, I'm going to write a horror novella about a bunch of international PhD students stuck in a Burger King that doesn't stop growing.
If anybody would like updates, please subscribe to my semi-derelict newsletter: https://www.mario-coelho.com/newsletter
Thanks for stopping by Mário, it was great to get to chat with you.
Thank you a million for having me! This was immensely fun.
---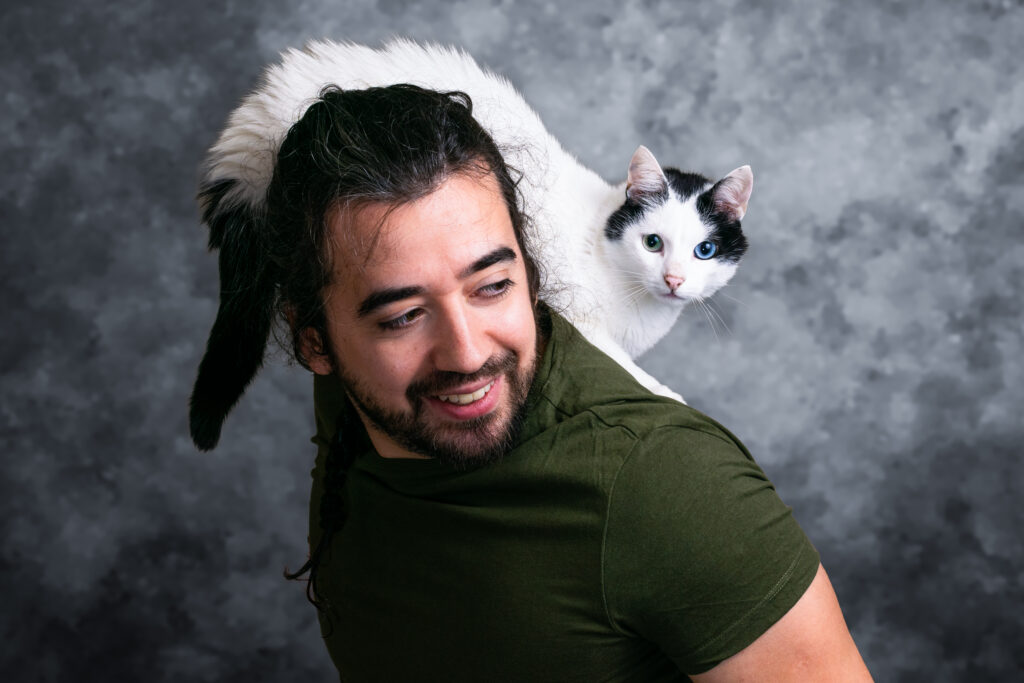 Mário Coelho
Mário Coelho lives in Portugal and drives a crap 2003 Mitsubishi Carisma which frequently explodes. He mostly writes SFF with a focus on Weird Fantasy, plus a few forays into literary fiction. When he's not creating allegories about his sleep paralysis and clearly unresolved abandonment issues, you can find him obsessing about the eventual death of his cats.