Every Sunday, Maman marched us into the garden, where we knelt in the worm-fresh soil and screamed into holes she had dug for us. "You've got to get the poison out of you," she said, without elaborating what the poison was. She didn't have to. Inevitably my sister and I vomited fluid like tar, sticky and bubbling. It stained our tongues black, like we'd spent the afternoon sucking licorice candies.
"Good girl," she said to Angelique, then to me, patting both our shoulders. "Very good."
During the Sunday sickness, she nudged us toward hurts of the past week we'd already forgotten and made us stew within the yellow bruises. An argument we'd had on Tuesday over a hairbrush; the screaming match on Thursday that bloomed from the rubble of a broken promise to play together. She couldn't press her fingers into the private wounds, the ones that happened in her absence, but somehow she drew us to those jagged shores like a siren to lost sailors. "It's healthy, to get the poison out," Maman said, "and to give it a life of its own."
By Wednesday, the holes in the garden bulged as those lives writhed to the surface. When we came home from school, Maman marched us out again, to uncover the holes where we had buried our darkness, and greet the fetid creatures born of our hurt. Their mess-made bodies congealed into mole rats of grease and fat; when mine pressed its searching paws into my palm, it left wet smears of bile behind.
Maman's little screams were covered in pupils like poppyseeds that blinked and roamed. She threw hers into a pot of boiling water to make a pasty, foul-smelling stew only she was allowed to eat.
Angelique warmed hers under the sunlamp in the glass tank in her bedroom, where they basked and lumbered, until she grew bored and dissected them. Peering over her shoulder, I watched her scalpel open its abdomen while it writhed under her surgical precision. Inside, it was held together with sticky white fibers, like cotton under a microscope. She pressed the scalpel against its inner fibrous slime, and though her little scream fidgeted and fought, she sliced until it melted like butter in a pan.
"You could have killed it first so it didn't suffer," I murmured.
"They're barely even alive, moron," she scoffed. "They can't suffer. They don't have brains."
Giving the poison a life apart from ours was essential to our health. Killing it was equally important. It established that we were the authorities of our bodies, that anything fostered inside of us was under our jurisdiction and control. Maman turned hers into nourishment; Angelique inspected hers so it could keep no secrets. Both beat their sickness into submission.
I let mine go.
I told Maman I suffocated them, squeezed my thumbs around their grease-glossed throats until their heads fell open like slices of wet mozzarella. Instead, I carried my little screams outside, and though they were eyeless, mouthless, without any obvious ears, I told them to follow the brightest star, and released them into the underbrush, where whatever happened to them would be ordained by the natural world, incidental, and out of my conscience.
***
"Sacha," said my mother, "tell me you are doing what I taught you."
"You taught me many things."
"My darling, please, you know what I mean."
I rolled my eyes. She couldn't see me through the phone, and I felt a spike of pleasure in secretly disrespecting her. I hadn't screamed myself sick in years, not since college, when I discovered life went on if I skipped Sunday's ritual purge. All those years with bruises and scrapes on my knees—all those years spent making myself hoarse as rain soaked a sniffle into my bones, or kneeling in two feet of snow, and for what? What proof did we have that what we carried inside was bad for us? What if it was love, or creativity, or hope, or patience, or any of the myriad goodnesses that were scarce in my adult life?
"Like clockwork," I lied.
"Good, very good," she said. "You haven't had those issues again, have you?"
"No," I said. It wasn't a complete lie: I hadn't purged to know if those issues resurfaced. By the time I was seventeen, I either couldn't vomit or I vomited too much, and my little screams didn't congeal, didn't come to life. At that age I worried, because my mother worried, and she worried so loudly and incessantly that all her thoughts snaked inside me and swallowed my own. Something was wrong with me; I'd felt it for a long time before my mother and Angelique saw the evidence. It was something I couldn't name, something dark and cobwebbed inside me, like the fibrous insides of Angelique's screams. I had no specific bruise for our mother to press down on; my whole life was one large bruise that wouldn't heal. By the time I went to college, I still wasn't all the way right, and mother had threatened not to let me leave.
Did she know I'd learn the lie? That she'd deceived and betrayed us, manipulated our childhoods into a minefield of paranoia? I stopped speaking to Angelique when she insisted she saw nothing wrong with how we were raised. I told her she'd turned out just like our ruthless bitch of a mother and blocked her number.
"I love you, Sacha," she said. It took everything in me not to say fuck you or I wish you were dead. When I told her I loved her, the words scraped past my teeth like sandpaper. Hanging up was an instant relief.
As I pressed the numbers for my microwave dinner, my finger bulged. Then the vein at my wrist. I grabbed it—whatever it was—and squeezed until the lump squelched flat. Beads had gone roving under my skin for months now, wriggling, growing, poking outward like alligators against their eggshells, and holy shit—why would I ever wish Maman dead? I pressed my palms into my eyes. I was out of control. My brain was all over the place and I didn't have the time or the energy for any of this. I just wanted to eat my dinner and sleep until I had to go to work again. What a pathetic fucking life, I thought; or, rather, a voice inside my head offered it to me as a thought I could claim for my own. Maybe I'm the one that should die.
And for a moment, it felt radiantly true.
I hurried to the sink, where I screamed and I screamed and I screamed, but nothing came out but white, foamy spittle. At some point a neighbor pounded my door and yelled at me to keep it down or he'd call the cops. I went on screaming, heedless, desperate for it to be as simple as it was when I was small. I tried to keep screaming—knew that if I just kept trying, I'd reach the bottom of the well—but a lever yanked inside me, stopped me in my tracks. There's no poison inside you; this is just who you are. I started sobbing. I wanted to call Angelique—why would she want to hear from you?—or better yet, Maman, but came up against a terrible wall I couldn't climb, a wall that wouldn't let me dial her number even though my phone was right there. Do you think she'd help you? When you've lied to her for years? She told you what to do and it was too fucking hard, you ignored her, you didn't want to hear it, and look where you are. You deserve this. You don't deserve to be alive.
I do.
***
Even though it was 3 A.M., even though I hadn't called first, my mother pulled me through the door. Her grip on my wrist was its own kind of shackle as she dragged me down the hallway. I was sobbing too hard to explain why I'd made the four hour drive, but I didn't have to say anything for her to know what was wrong. I only had to be there.
Once she unlocked the back door, she shoved me into the backyard. Dropping to my hands and knees in the garden, I screamed into the grass while I tore a wound into the earth, splitting my nails on hard soil and stone. Pebbles sank their little teeth into my knees. My mother's rusted hand shovel glinted in the dull reflection of the street lamps out front; the dreadful shlick of it brought back a thousand memories of a thousand Sundays.
"Get it out, Sacha," she snapped. She took me by the scruff of the neck and bent me closer to the earth like she was forcing a dog's nose into its own shit. "Get it out by the root."
How long did I scream before, at last, that horrible sludge bubbled up my throat? Just a little, at first—little burning chunks of it that didn't come easy, that fought me the whole way from my mouth into the pit. "That's it," my mother encouraged. I kept screaming and it was a scream like childbirth, the kind of scream that could only happen while pushing something out of you for good. My gut churned. I'd loosened the stopper and the rest was coming.
It spilled forth in a deluge. As black as that childhood tar, but hot and metallic on my tongue. My whole body clenched. "Good girl," said my mother. I wanted to wrench her hair around my fingers and shove her face into my spill. "Get the poison out. Very good." I wanted to laugh. I wish I could have laughed. The poison kept coming, viscous and reluctant, though as time went on it turned watery, and in the moonlight the black liquid grew red, dark at first and then bright. Fresh.
She didn't notice. If she had, she would have stopped me.
Her palm soothed down my spine, rubbing circles between my scapulae. "You'll feel better soon," she said. Already I felt lighter; the muck clogging my insides had stopped fighting. All it gave was a pathetic twitch, and then total stillness. At the end of all that sludge was a little river of wrinkled, umbilical flesh, the last solid dregs of a poison I'd spent years fighting so I could live. I coughed it into the ground, and sat there breathing raggedly, triumphant at last. Renewed.
There was nothing else after that. It was gone.
My mother's hand stilled. She was looking at that cord of muscle floating atop the greasy black and red puddle of vomit. "It's too late," I said. She snatched me by the chin and wrenched my head to face her so she could search my eyes for someone who wasn't there anymore. Someone I'd melted down into blood and liquified guts. Someone I'd puked into the garden. Finally, I could laugh, and it was a deep, echoing sound that filled all the newly hollowed spaces inside me.
"Stupid woman," I said. "Stupid, useless woman."
Her hand was on my neck again. She shoved my face into the hole, into the stink. "Give her back."
"Got her out by the root, just like you told me," I said. She forced my face lower, until that little nugget of umbilical meat was in front of my mouth. I sank my teeth into it and spit it at her.
"Sacha," she cried—and was she boldly reprimanding me, or mourning that pathetic excuse of a child? Both, maybe. I thrilled at that.
"I could be," I said. Her grip slackened as she cradled the last remnant of flesh. I slid my fingers through hers, and when she looked at me with those hard, unforgiving eyes, wearing that grimace of grief and rage, I smiled earnestly. "I am."
---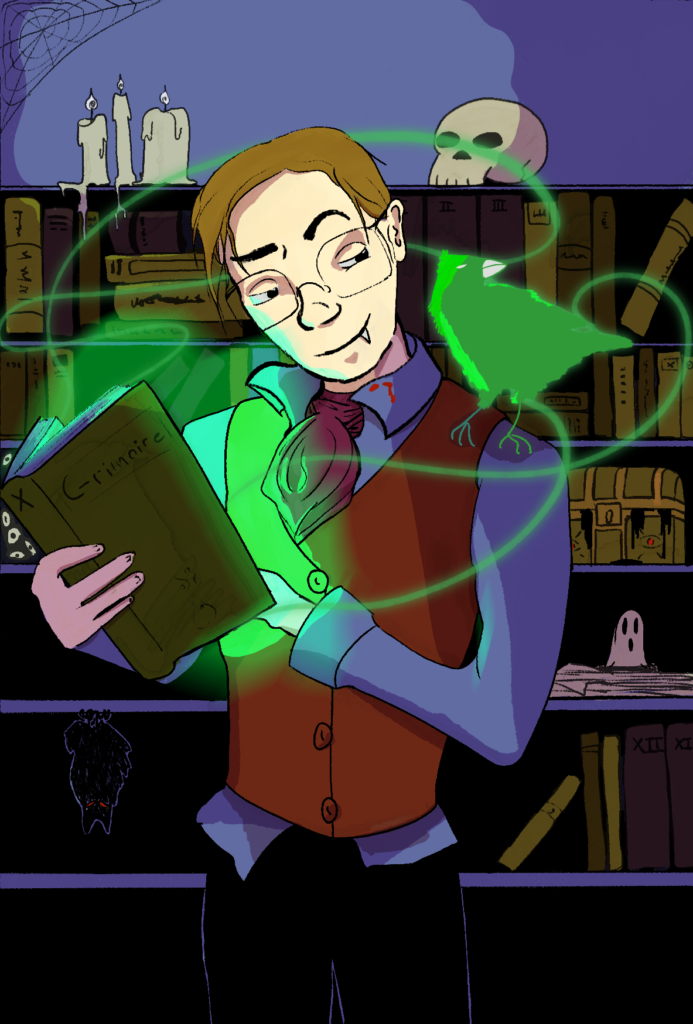 S. M. Hallow
S. M. Hallow writes speculative fiction of all flavors, from horror to fantasy to romance. Hallow's stories, poems, and visual art can be found in Baffling Magazine, CatsCast, Crow & Cross Keys, Final Girl Bulletin Board, The Lovers Literary Journal, and Prismatica Magazine, among others. To learn more, follow Hallow on Twitter @smhallow.