Run in association with the British Film Institute, the London Film Festival premieres some of the biggest and most talked about films of the year. This includes those in the science fiction, fantasy and horror genre, with previous years having featured the likes of Guillermo del Toro's The Shape of Water, Cartoon Saloon's Wolfwalkers and Takashi Miike's Blade of the Immortal. 2022's festival offered a feast of genre films and television making their UK debut. Here at Seize The Press we've collected some of the best SFF and horror offerings the London Film Festival 2022 brought to the UK.
The Kingdom Exodus
Twenty-five years ago, controversial Danish director Lars von Trier created The Kingdom. Set in a hospital ward in Copenhagen, the miniseries focused on a bizarre supernatural phenomenon that affected an eclectic cast of neurology patients and hospital staff. It was perhaps better known for the 2004 US remake, Stephen King's Kingdom Hospital, or even the UK satire Garth Merengi's Darkplace. Despite the limited availability of the original, the two original seasons remain a cult hit, which is why in 2022 von Trier concluded the show with a third season.
Titled The Kingdom Exodus, the final series takes on a meta-textual bent, focusing on a new patient who is a fan of the original series. With returning cast members such as Udo Keir joined by fresh faces, including The Northman's Alexander Skarsgård. The Kingdom Exodus has already been screened at Venice and Toronto Film Festival, with critical reception concluding that von Trier is back in familiar territory. Following the London Film Festival, all seasons of The Kingdom are now available on MUBI.
Unicorn Wars
From the aesthetically grim to bright and colourful (if thematically no less grim). Directed by the Spanish comic book artist Alberto Vasquez, Unicorn Wars is an adult animation about two teddy bear brothers, Bluey and Tubby, who are the newest recruits to the Little Bear Army. They may look cute and cuddly, but these toy soldiers are caught up in a bloody war between their people and the environmentally friendly unicorns who dwell in the nearby magic forest.
Described as Apocalypse Now meets The Care Bears Movie, Unicorn Wars promises to be every bit as anarchic, colourful and emotive as Vasquez's previous work Birdboy: The Forgotten Children (2015). Covering themes of religious indoctrination, environmentalism, and enough anti-war rhetoric to make Studio Ghibli look subtle. Unicorn Wars has already been picked up by GKids, who plan to distribute it in North America in 2023. No UK general release is set at the time of publication.
The Eternal Daughter
After the success of The Souvenir Parts One and Two Joanna Hogg has become something of an institution at the London Film Festival. Now the British director returns, reuniting with regular collaborator Tilda Swinton for a ghost story wrapped up in mystery. Shot in secret during lockdown, The Eternal Daughter follows Swinton as a filmmaker returning to her now vacant family home with her elderly mother in tow. With Hogg's signature naturalistic style, she crafts a haunting story of memory and loss as Swinton's character finds herself haunted by a ghostly spectre, with the truth of its nature hidden somewhere in her former home.
The Eternal Daughter also screened at Toronto and the Venice Film Festival and has already been picked up by the distributor A24, clearly hoping to repeat The Souvenir's critical acclaim.
My Brother Robot
The notion of personal robotic assistants has been explored in the past with films such as Robot & Frank and Big Hero 6. Danish-drama My Brother Robot takes this concept and applies it to the terrifying trials of young adulthood, centering its story on Alberte, an awkward twelve-year-old girl who is gifted an advanced robotic assistant called Konrod. Soon Alberte and Konrad are shooting up the social ladder, drawing admiration and envy from the other students.
Not exactly a household name, director Frederik Nørgaard has been quietly making a name for himself as the director of several jovial, but well-crafted Danish drama films. With My Brother Robot he looks to be continuing this trend, with a novel, heartfelt and amusing look on the true meaning of companionship in the modern age.
You Won't Be Alone
After the success of 2021's Lamb, Noomi Rapace seems to have developed a fondness for the genre of Folk Horror. Now she continues this trend with You Won't Be Alone, a story about Nevena, a young girl in 19th Century Macedonia, who is kidnapped by an evil spirit and transformed into a witch. As her powers develop Nevena finds herself able to take the form of the people she kills, leading her to inadvertently wreak havoc among a nearby village.
The film serves as the feature debut of Goran Stolevski who has been directing short films and television since 2007. Now we'll see if a promising new talent is on the horizon, buoyed by established industry professionals such as Rapace, and Beautiful Creatures star Alice Englert. You Won't Be Alone has previously screened at Sundance and other International Film Festivals and has been picked up by Focus Features.
Enys Men
In 2019 Mark Jenkin burst onto the British film scene with Bait, a grainy, black-and-white drama about an impoverished fisherman living in gentrified Cornwall. In 2022 he returned to the region for his follow-up film Enys Men. Set on a remote island off the Cornish coast, Enys Men follows Mary Woodvine as a volunteer environmentalist, researching rare flowers on the island in 1973. With an almost ritualistic routine that involves dropping a stone into a mineshaft every day (incidentally 'enys man' is Cornish for 'stone island'), The Volunteer is shocked to see a dramatic change in the flowers she is researching when a lichen grows and spreads on her own skin, resulting in a series of terrifying visions.
Less a typical horror and more of an unsettling slow burn, Enys Men promises to be every bit as frightening as the British Folk Horrors of the 1970s that inspired it. Bait already proved that Jenkins can ramp up the suspense until breaking point, now we'll see if he can apply that same skill to horror. As with Bait, Enys Men will be distributed by the British Film Institute with a January 2023 release scheduled.
NightMare
From Rosemary's Baby all the way to 2021's Titane, pregnancy horror has become an entity unto itself. Feeding on the antenatal anxieties of expectant parents, NightMare is the latest entry to the genre. Directed by Norwegian newcomer Kjersti Helen Ramussen, the film tells the story of Mona and Robbie, a young couple with good jobs, a spacious flat, and now a baby on the way.
However, after the death of their neighbour's baby Mona finds herself haunted by increasingly intense night terrors, leading her to the conclusion she is being terrorised by a demonic entity known as The Mare, a figure from German and Slavic folklore that inflicts nightmares on its victims in their sleep. As Mona's mind begins to deteriorate, she fears that The Mare now has its sights on her unborn child.
Despite having only played two other film festivals, NightMare has clearly impressed the horror streaming service Shudder, who have already agreed to distribute the film following its UK premiere at LFF.
Lynch/Oz
While not technically a work of fantasy, it would be remiss not to include here Lynch/Oz, Alexandre O. Phillipe's documentary on director David Lynch's obsession with The Wizard of Oz. Lynch's films are discussed in great depth by film critic Amy Nicholson, who is joined by directors such as Karyn Kusama, John Waters and even Room 237's Rodney Ascher, covering the minor parallels, such as Lynch's use of the term 'wind' to request more mystery from his performers, to the use of the witch-like hag in Mulholland Drive. Like the 1939 original, Lynch's films often employed a nostalgic technicolour sheen to depict an idealised Americana and his characters often share Dorothy's compulsive curiosity and courage.
With Phillipe's previous works having covered Hitchock's Psycho and William Friedkin's The Exorcist, it is clear that the Swiss documentarian is determined to make a name for himself as the in-depth and ambitious video essayist studying cinema. Lynch/Oz has already made its premiere at the Tribeca Film Festival where is received a positive reception from critics. Now let's see if UK audiences are as fond of this unique retrospective.
Pinocchio
Five years after The Shape of Water, Guillermo del Toro returns to the London Film Festival with a new adaptation of Carlo Collodi's The Adventures of Pinocchio. Not to be confused with Disney's live-action remake of its animated classic, del Toro's film is a stop-motion production made for Netflix, relocating the fable of the wooden boy brought to life by magic to 1930's Italy under Fascist rule. Indeed, the film looks to have a much more mature tone than previous adaptations, however, it wouldn't be a del Toro film without a healthy dose of whimsy, in this case supplied by the puppetry of The Jim Henson Company and music from The Shape of Water composer Alexandre Desplat. Pinocchio will also feature the vocal talents of Ewan McGregor, Finn Wolfhard, Cate Blanchett and Tilda Swinton.
Pinocchio premiered at the London Film Festival on October 15th, followed by a limited theatrical run. It officially began streaming on Netflix on December 9th, 2022.
My Father's Dragon
Another regular at the BFI's London Film Festival is Cartoon Saloon, the Irish animation company behind Wolfwalkers and The Breadwinner. This year the company will return with My Father's Dragon, the story of a young boy named Elmer, voiced by Jacob Trembley, who finds himself on the mysterious and magical Wild Island. There he encounters a young captive dragon, voiced by Stranger Things' Gaten Matarazzo, who has been tasked with saving the island from sinking underwater. As with Cartoon Saloon's previous work, My Father's Dragon looks set to be a colourful, emotive and heart-warming tale of friendship among the fantastical.
The film was written by Inside Out's Meg LeFauve and was released on Netflix in November following its premier at the festival on October 6th.
Roald Dahl's Matilda the Musical
This is the big one, the Opening Gala of 2022's London Film Festival. In 2011 comedian and composer Tim Minchin adapted Roald Dahl's popular children's book Matilda into a stage musical for London's West End. The classic story of a precocious young girl who develops telekinetic powers and uses them to undermine her ignorant parents and the authoritarian schoolmaster Miss Trunchbull. Now the musical version has itself been adapted into a feature film, Roald Dahl's Mathilda the Musical, which opened the London Film Festival on October 5th.
The film comes courtesy of director Matthew Warchus, who has served as the artistic director of London's Old Vic Theatre since 2015 and is the director of Pride, one of the best films of 2014, portraying the alliance between Welsh coal miners and the LGBT community during the 1984-5 miners' strike. The film had a theatrical release in November following its premiere at LFF.
---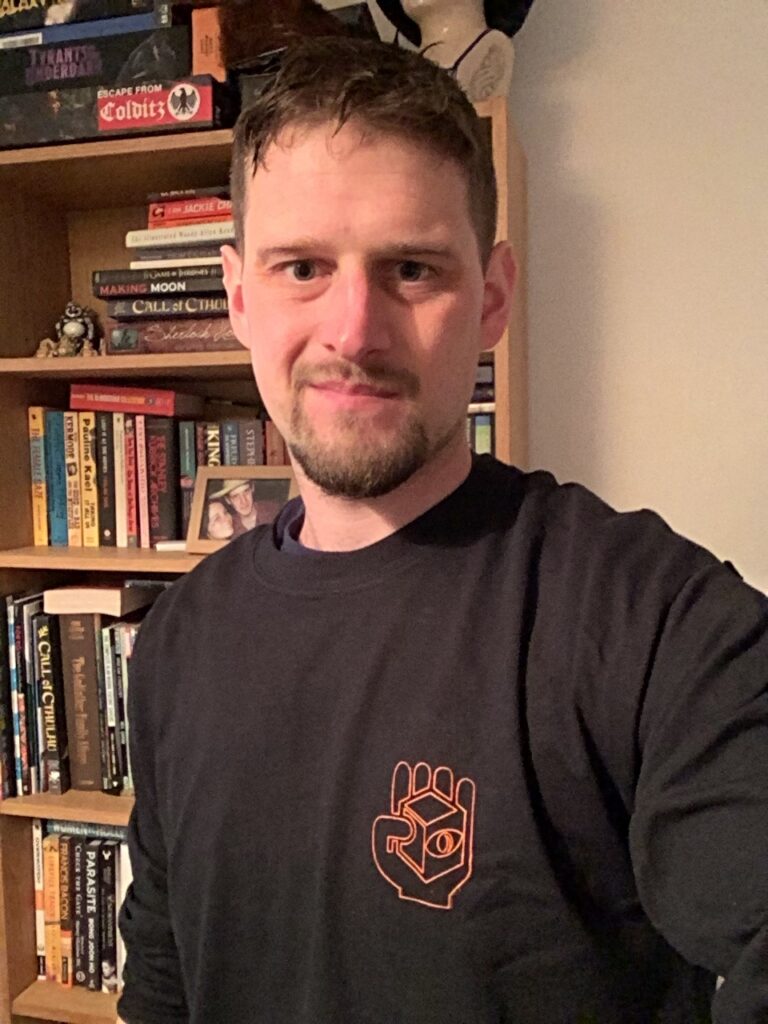 Liam Macleod
Liam Macleod is an author, film critic and caffeine-fuelled tech wiz living in Bath, UK. When not communing with the ghost of Jane Austen he is writing for Hey U Guys, Film Stories and WhyNow and is currently working on his first novel. His unfiltered thoughts on film, fiction and politics can be found on Twitter @salsashark1988