"The woman who's just given birth is feared even by the mountains," Irene mumbled and brought the baby to her breast for the third time that night. From all the things her mother had told her about what happens after birth, that phrase had stuck with her the most and kept surfacing to her thoughts every time her eyelids grew heavy with lack of sleep. She had heard about the Fates who whispered to the newborn about what is going to happen, so she waited by his side, expecting to read in his sleeping face all of the joys or sorrows they would bring to him. As people said, if the baby laughed in his sleep, his life would be easy; but if he cried, it meant a lifetime of woe for both him and the mother who had birthed him.
She knew that along with the Fates came also the evil spirits, like wild, blood-sniffing animals. It was not uncommon for a woman to lose a baby within his first forty days because she had allowed someone to enter the house earlier than was permitted, or she hadn't have them "pass through fire." She had made it clear to her husband, Dimitri, "Before you cross our threshold after work, light a cigarette so anything malevolent or envious following you is scared away. And as for the relatives, they can wait. There will be plenty of time for them to see the baby".
Brought up in a village in the shade of the mountains of Epirus, Northwestern Greece, Irene had seen women give birth in the fields, soaking the soil with their blood and piercing the air with their cries. She used to be scared of births, but as she grew up, she often caught herself longing for that pain. And until it was time for her to have a baby of her own, she used to make dolls out of straw and hold them close to her bosom.
Once, when her mother saw her pretend-plays, she pulled her aside and told her that a newborn isn't a plaything. She said there were long arms around the cradle, reaching out to grab the baby. There lurked mouths with pointy teeth, thirsty for breast milk.
That's why Irene, a little over twenty now, with a baby on her bosom and a mother in the grave, she knew how to protect herself. She lit the vigil oil lamp every evening and always collected the clothes she had hung out to dry before nightfall. Once forty days from the birth were over, she would go to church and ask the priest to bless the baby, a precaution against the malevolent spirits until it was time for his christening. But until then, whenever she got up in the most ungodly hours of the night to breastfeed her son, she would first cross herself, recite the Lord's Prayer, and then give him his milk. Just like tonight, while trying hard to keep her eyes open in the darkness, and not fall asleep as she was feeding him.
With all her talismans and her prayers, Irene believed she was doing everything right. She feared nothing and worried about nothing until that dawn, when she was by the window, looking at the aspen trees surrounding her house like wild beasts. The hours passed, she breastfed her rosy-cheeked son again, and every time she placed him in his cradle, she would turn her attention back to the window. She kept looking from the forest to the baby and vice versa. Something was different outside her home, but she couldn't tell what.
And so went the following day and the day after that. Every time Dimitri returned from his woodshop, she would hide behind the curtains so she could watch him build a swing for their son, unseen by the trees. And as she observed her husband working, a shiver ran up her spine. Only when he came home and lifted their son in his arms did she dare open the window to hear the whispers, made stronger by the air.
Come with us, we're waiting for you.
Irene was keeping it a secret that the trees had been talking to her.
For days, she struggled to explain what the trees were saying. She sat longer and longer to watch them, with her fifteen-day-old son enveloped in her arms. His tender limbs, his tiny mouth, his sweet scent and his hairless sleeping head, were comforting to her against all those furious voices that demanded, Bring him to us, he's ours, put him in the ground, he needs soil to grow.
One night, she could take it no more. She got up and opened the bedroom window wide. "Can you hear that, Dimitri?" she called out to her husband, so her words could be heard over the rain.
"Hear what? There's no one out there. Close the window or the baby will catch his death!"
For three nights in a row, Irene opened the window, but Dimitri never heard the whispering of the trees and she decided never to tell him about the voices again. She would rather lie down as soon as she heard him come back from work; she didn't feel like talking. And when he came up to the bedroom to see her, she told him she was tired. Then Dimitri would kiss the baby, shut the door behind him, and Irene would curl up under the covers and cry herself to sleep.
***
It was already thirty days after the birth, and Irene barely slept. Taking care of the baby left her no time to rest, and Dimitri suggested getting someone to help her until the newborn grew up a bit, so she could get some sleep and not do everything on her own. Irene told him she didn't want to let another woman into their home, and the discussion was over.
It wasn't just the fatigue that overwhelmed her, but also the threatening voices of the trees.
We'll take him, he's ours!
That was when Irene began talking to the trees herself. She pleaded with them, raged against them. She thought the aspens would reach out, break her window and snatch her baby away. And it wasn't only their words, but also the changes she had noticed on his body. Overnight, his skin had darkened, as if she had left him in the sun, when in reality she hadn't taken him outside at all.
She bathed him three times a day, but he kept darkening all the more. And as the days went by, she saw his nails begin to change. They grew black and tough; they didn't feel like a baby's nails anymore. She had no idea what to expect, but as soon as she saw the first cracks on his hands, she knew. The trees had told her, and she had refused to believe.
"His arm! His arm! It's gone!" she screamed one night over Dimitri's head, and he rushed to the cradle to check on the baby.
"Lie down and I'll get you some water. You had a bad dream," he said, stroking the baby who was peacefully sleeping wrapped in his blanket.
Irene woke many times that night, and also those that followed. She would go to the baby's cradle, lift the covers and gingerly examine the tiny body, inch by inch. And just as she had thought, his right arm had turned into a twig. A few hours later, the same thing happened to his left arm, and soon this spread to the rest of his body until he resembled a piece of wood. The only part of him that remained human was his mouth, hungrily suckling on her breast, while his twigs for arms scraped against her pale skin.
She buttoned up her nightgown so that Dimitri would not see. If he noticed the scratches he would take her to the doctor, and she would be forced to tell everyone that, instead of a baby, she had been nursing a log. If she went to the doctor, she wouldn't be able to control herself, and she would tell him about the trees constantly demanding, Bring him to us, he's ours, put him in the ground, he needs soil to grow. Instead, she kept silent and bit her tongue until her mouth filled with blood.
Two days before his forty-day birthday, the log had grown extremely heavy in Irene's arms. Nourished with her love and her breast milk, he made her chest bleed. In order to make him grow, she didn't sleep. Sleeplessness had caused dark circles to form below her eyes, and she slouched when she walked, like some kind of shadow was bringing her down. She couldn't hide from Dimitri any longer. "In the morning we're going to the doctor and I'll make sure to find a woman to help you," he said, and in that moment she made up her mind.
Once her husband was asleep, Irene lifted the log from the cradle and walked outside barefoot. All she had for him was milk, and what he needed was soil.
She walked until she reached the spot where Dimitri had built the swing, and placed the log on the ground.
"My son, my son," Irene uttered, and touched the earth with her fingertips. She gingerly picked up a small handful of soil and brought it up to her nose, just like her mother used to do when planting flowers. And when the smell reached her nostrils, she knew; she knew, and began digging with all her might, while her tears soaked the earth. The trees she had been hearing all this time weren't shouting, but they accompanied her sobs while the hole grew deeper and deeper. The log, as if it knew what was coming, started crying as well.
Once she had dug the hole deep enough, she took the log and placed it inside, and began throwing handfuls of soil on top. Before she had managed to cover it, she felt a soft stroke on her back. She looked up at the aspens. Τhe next touch found her face and wiped away her tears. The trees had bent over her, their branches carrying more soil. And then their voices were back and Irene looked at her log one last time.
---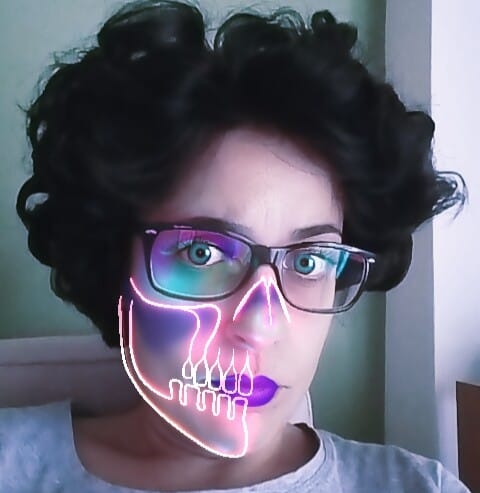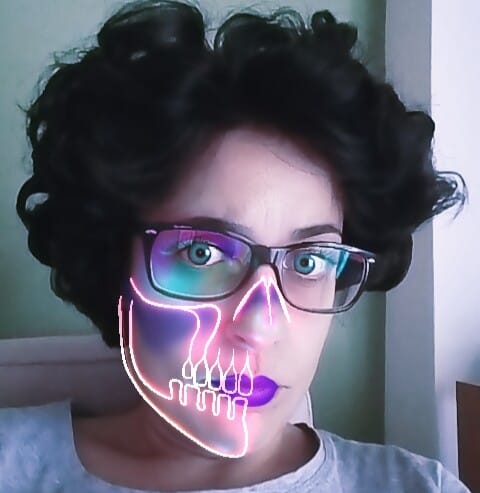 Angeliki Radou
Angeliki Radou is a Greek author of speculative fiction. She has published seven books in Greek and her short story, "The Binding of Chrysanthoula", was included in the anthology "The Lost Librarian's Grave" from Redwood Press. You can find her online at www.facebook.com/agg.radou