When Tananarive Due began writing fiction in the early 1990s, Beloved was absurdly left out of the horror canon, she wasn't aware of Octavia Butler's work, and her earliest fiction centered "contemporary realism about white male protagonists having epiphanies." It's a bleak thought to imagine a world where she continued on that trajectory. Thankfully, in the one we live in, by the time her first novel, The Between, came out in 1995, she had doubly recalibrated to focus on Blackness and horror. Her new collection, The Wishing Pool and Other Stories, beautifully continues the tradition.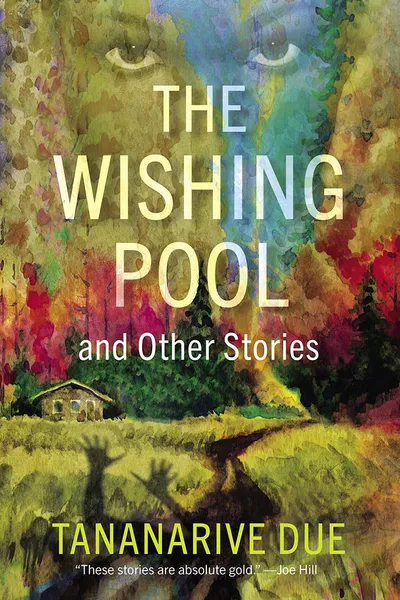 Due's strengths as a short story writer are manifold: she's adept at astute observations of people/character, situating the uncanny in Black American history, and shocking, unsettling endings. She's a master at jerking the rug out from under her reader with incredibly abrupt turns at the close of her narratives – not twists, exactly, because the narrative logic leads inexorably to them, but sudden climaxes that end without denouement, giving the reader no time to adjust or unpack before the story is over. It's a truly unsettling tactic, leaving her readers just as unsettled as her characters living in a white supremacist world. These strengths permeate all of her work, but the division of the collection into four sections – Wishes, The Gracetown Stories, The Nayima Stories, and Future Shock – draws attention to the fact that horror (the first two sections) suits Due's writing better than the science fiction of the latter two. This isn't to say that there's no horror in the science fiction (far from it) or that any of the stories here are bad, but the necessary setup and suspension of disbelief necessitated by the science fictional elements feels, at times, like a mismatch with her strengths, which shine through more strongly in her horror stories.
"Ghost Ship," for example, is a science fiction piece that takes place in a future where the US has driven out its nonwhite population, and follows the daughter of expats returning from South Africa (on the winkingly-named ship Whistling Dixie) in an echo of the Middle Passage. It's a fascinating setup, but there's a disconnect between that large scale setup and the concrete setting of the narrative itself, such that the ship feels too vague to carry the weight of the protagonist's suffering. The post-apocalyptic "Shopping Day" is noteworthy for its surprisingly hopeful ending, an unfortunate pivot from the dilemma toward which the story had been pushing its youthful protagonist. "The Biographer," on the other hand, is the exception that proves the rule, another viral apocalypse (the horror of societal collapse, driven by either pandemic or climate change, permeates all of the science fiction here), but one that plays to Due's strengths by tying its desolate landscape thematically with the biography of the protagonist. A filmmaker, her eerily prescient movie Sick predated the pandemic, lending her enough renown that her life story has been selected by the mysterious Academy of Biographers for inclusion in their library. It's a beautifully thoughtful story, self-reflective regarding Due's own tendencies as a writer, rooted in a fascinating protagonist, first published here and a perfect capstone to the volume.
The horror stories, freed from the worldbuilding requirement of the science-fictional ones, allow Due's unadorned prose to convey the astutely observed humanity of her characters, a legacy of her training as a journalist. Take this passage about the villain of "Haint in the Window," an excellent study of gentrification in south LA centered on a haunted bookstore, the antagonist a security guard because he "couldn't qualify for LAPD, which was a true testament to his instability. And he deeply craved an excuse to hurt a smart-ass like Darryl Martin Jones. To kill someone, if he could get away with it–just to see what it might feel like. Even his smile looked like a trap ready to spring." It's concise, clear, and informs all of the story which flows from it, even as the character barely appears in the story again. Her protagonists are even more artfully drawn, particularly those with a lingering feeling of regret coursing through their lives. Darryl, the manager of the bookstore, feels guilty over the increasing number of white authors on his bookshelves. Kat, in the fantastic new novelette "Rumpus Room," accidentally broke her toddler's arm and is in self-imposed exile because of it; Namiya, a post-apocalyptic survivor whose duology of stories form their own section of the book, who survived the flu pandemic even as a man she infected with the virus died.
All of these stories, horror and science fiction alike, are deeply rooted in the history and culture of Black America, which Due uses to flesh out her characters and contextualize the uncanny intrusions of the narratives. The most piercing example is the almost unbearably-tense "Thursday-Night Shift," where a girl in Memphis in 1968 helps her mom clean a motel where a visiting pastor prepares a speech to give striking garbage collectors. In lesser hands her simultaneous alienation from humanity (due to an alien stone on a data-gathering mission) could have felt almost incidental to such real horror, but Due balances the symbolism perfectly. "Incident at Bear Creek Lodge" finds a Black boy from Florida visiting his alienated grandmother at a lodge in Colorado where something is moving under the white snow. The grandmother is one of the most fascinating characters in a book full of them, an aging movie star, imposing yet sympathetic, her background in embarrassing comedies complicating her current regal composure and feeding her almost-sadistic fixation on respectability. Of all the terrifying endings Due presents here, the final image of this story is one of the most chilling. The warmer territory of Florida unites the five Gracetown Stories, a suite built around a mythos of the titular town, replete with haints and abominations and a hellish penal school. The latter is also the setting of Due's forthcoming novel The Reformatory, which I'm very much looking forward to.
Due notes in her introduction that many of her stories have young protagonists because "childhood has so many harrowing moments that haunt us throughout our lives." Writ large, on a generational scale, that point is integral to Due's approach to horror, infused with generational trauma as it is. That historicity is also present in her works' reliance on the wisdom of the ancestors, (un)living embodiments of Black history exerting their influence on the present. This is true not just of her characters, who are visited by ghostly grandparents in several of the stories, but in Due's own debt to her forebears, including Butler, who's honored with a brief cameo (perhaps) in the haunted bookstore. The field of Black horror fiction is overlooked far too often, but one hopes that this book will draw some well-deserved attention to one of its greatest living practitioners.
---
Zachary Gillan
Zachary Gillan is a critic residing in Durham, North Carolina. He blogs infrequently at https://doomsdayer.wordpress.com/ and tweets somewhat more frequently at @robop_style. His reviews have appeared in Strange Horizons and Ancillary Review of Books, where he's also an editor.