I walk to skoo every morning, but today chains hung across the door. Line of black buses waiting. Sternoids jumped out and shoved us inside. No seats, no windows. Us bigger ones hung onto the bars up top. Littles hung on us. The bus started with awful shaking—rattle rattle rattle. You couldn't hear.
Skoo made us miners: hammers and chisels. Pick up crystals. Littles pick up stones. Kids like me hauled big chunks. When skoo was chained, sternoids came. Mines needed more kids.
Riding bus was scary. Our feet slip on grate under. We see red stones jumping at us under. Knees shake. Teeth rattle for kids with teeth. Mines were coming.
Sky turned from red like dirt to black. Shiners on bus were small. Finally rattles stopped. Sternoids pushed us into big big room. The shiners up top far away and not shiny. Room was so big, many buses could fit right in.
Then great cranking from other side. Huge wheels up top went round and round. Big box came up from floor. Box opened and kids came out, lots. Sternoids walk into box and threw kids not walking onto big black plate. No sound except cranking and shaking. Kids walk slow, clothes covered in shiny crystals, faces crusty with red dirt. Some fell. Didn't move. Sternoids threw them on black plate.
Old people came with buckets. They yell "Soup," and put buckets on floor. We push and push, putting hands in buckets. Hot. We scooped but bigger kids push me away. I went round back where not so many kids. Skooched down to scoop faster. Bad in mouth, but I was empty.
One old person pressed me. I think a she with bumps on chest. She didn't shove just looked, took my hand and wiped it with rags and looked close close. Would it bite? But it whispered, "What is your name?"
"E-Wye."
Its eyes very big. Pushed hand close to me.
Finger three, near bottom, had brown dot, like eyeball. My finger three, near bottom, brown dot, like eyeball.
"What is meaning?" I asked.
"I am Mi-Wye, your mama."
"You a she?"
She nodded. Water came out her eyes. My hand wet inside her hand. Then shiners up top blinked and went black.
"Come."
Kids curled on floor right there. We walk slow, stepping over sleepers. So quiet we moved. She touched wall, slid till she found door. So quiet cracked open, outside. Cold. Near as black as inside. No words, moving, always moving, away from road. Then her other hand went forward. So did mine. We touched a wall of sticks. Crept inside.
We curled together on floor and I sleep so quick. Maybe safe now. I stayed that way long time till light showed.
She talked. "I make Soup. Stay. I come back. I bring food. Then you must see and we decide."
Waiting for her, in my head, I saw shadows from back long time, people creeping into hut, talk to Papa Lo-Wye. Stories of long back. I did not believe. Sky blue? What is blue? Sky is red and dusty. Everyone knows.
White on mountains? Mountains are red all way, not white at top.
Water from sky? What?
They said their papa-mama came through Broken O back long time.
Everyone knows Broken O. Big and black. Bottom like broken cup. No side, no top. Broke black pieces on ground. Sometimes sternoids moved pieces. Build again. Always fell.
I asked Papa. He drew O on ground, then he scratched out sides and top, like Broken O. Back time, he said it spin fast, loud. Fill with shiner like water but not wet. People walk into, then gone. Things came out and people run, get things. Before the Dome. He pushed me to my corner. Story done.
The she, Mi-Wye bend over me, her mouth curled and eyes like shiners.
"Here is better food." She gave me Soup in bowl with bread.
"No bread back time…. Lo-Wye couldn't find."
She nodded. "I think he was good papa."
"Soup is better. Do you?" and pushed my bowl, but it was empty.
"I am not hungry. It is good to see you eat."
"Do we go see now?"
"When dark comes. I have a little shiner."
We waited, she near door. She mmmd little sound. Maybe from back time. Finally we crept to different building. No sternoids. Mi-Wye pushed door and we went in. Clean. No big wheel. No box with kids. She turned her shiner on.
A round ball—bigger than me. Bumpy, with shapes.
"What is ball?"
Mi-Wye shook head. "Look at the shapes."
I did. Red shapes like dirt…then green and blue and white.
"Round shapes are Domes."
I walked around ball.
"We live here." Her finger over red shape.
"What is green and blue and white?"
"We live under Domes. Come."
We walked to long wall. Pictures and pictures and pictures. She said they tell story of here.
I saw sky blue. And dirt green and soft. She pointed finger and said, "These are trees. Many many trees. Little animals lived under trees. We had water, lots of water. It was called sea." Water ran from her eyes.
She told about wind that could make sea into great white piles instead of awful red heaps that stung and got in your mouth. I saw a big O not broken. It was shiny and wet in middle like an eye, a happy eye.
She said, "Ring of Travel". She said people and things walked into the not-wet shiny and went far far into the dark. She said name of tiny shiners in sky was stars. She said there were other places in far where people live. She pointed at the round ball in the middle of room. "Many worlds like that."
One picture, big, with Ring of Travel filled with white crystals like we mine, whooshing and spreading all over. Sea came and washed crystals across green. Crystals turn green into black. Trees dead. No more little animals. Sky turned red. Sternoids took kids to dig. Picture with buses full of crystals from mines pouring through Rings to other places. Everything changed to be like where we live. Last picture, Travel Ring filled with black smokes.
I sat down. Mi-Wye put shiner away.
"Our story is awful. We are bad."
"Bad people told everyone what to do when I was little. They built sternoids and took the kids away from home to work in the mines. They made the taller kids, like you—just beginning to get bumps on your chest—and boys getting big, too…they took them off to the Black Tower in the mountains to make as many babies as they could. New kids to work in mines. Boys and girls stayed at Tower until they couldn't make babies anymore. Then sternoids brought them back to cook and feed kids."
"You?"
"Yes. Papa and I were together. But my babies died. They said we were built wrong and sent us back to work. We stayed together and made you here. Then they took me back to the Tower."
"Where did babies that lived go?"
"There was another place near Black Tower. Black Dome. It was round and had a top made of metal, black, and the top came down to the ground making half a big ball. I never saw inside. No sound ever came out."
"Story makes me hurt inside."
"Me too."
Back to hut and stayed together for many many days. Mi-Wye made Soup when light was first red, then home with a little for both. She mmmd sometimes. We were family.
Many days I went to picture room and looked at world with Domes. No one ever saw me. Pictures were true. Our Broken Ring—behind were hills. But the Travel Ring, the Big O, all shiny—different high hills behind.
Mi-Wye said, "Yes, mountains."
Crystals whooshed out through Ring and black smokes came back. It was the story of Broken O. I turned around to the picture of green and sea and trees and small animals and I looked and looked at the mountains far back. No pictures of whooshing crystals in that Ring. Maybe it was still green. Could I find those mountains?
I went outside and walked the building, careful careful for sternoids. Around a corner a little path, down under building to a small door, about my size. I pushed. It did nothing.
At Soup that night, I told Mi-Wye. Her eyes were large large and shiny.
"The little room is still there! I will come with you early before work, when there is only soft light."
Next day, we moved quiet behind picture building, found the corner and little path. We both pushed hard hard on the door. It started to move and squeak and we were in new room. The top was close to ground, but we could stand. No shiners, but a thin opening around the top gave light. On the wall opposite, there were marks.
"What are the scratchings?"
Mi-Wye said they used to write our names, that everyone before knew how to write and talk and read. "That was what skoo used to do, before. Teach kids writing, teach the story of us. Before the mines."
She looked so sad. "We made this when we knew writing. It was hidden, then forgotten. Up at the top it says, "YRNRS." Our papas-mamas wrote their names after they came through the Ring—so people after could know we were real, before mines, before sternoids. We would sneak here before we went to Black Tower—because we wanted to go home, back to where we came from. But our Ring was broken and we could go nowhere."
When I could, I went to YRNRS Room to look at names, think about the people who were so lost they could only scratch their names to say they were real. There was even a name the same as mine. E-Wye. Scratched way at the end, just where my hands touched. Who was other E-Wye? A she?
Mi-Wye went back to look at the scratchings one more time. She pointed to Mi-Wye on the wall.
"Is that you?"
"Yes. And up there, that is Lo-Wye. Before Black Tower."
"There was another E-Wye?"
She just shook her head and walked away.
I touched the E-Wye scratch and left. I could see her Mi-Wye scratch, but it was like she had gone far far. It did not make her real.
Some days later, I told my meaning of the pictures with the high mountain and green. I said I wanted for us to find it, to live there, not here.
Tears came from her eyes. "Soon sternoids will catch you and take you to the Black Tower. You have bumps on your chest now."
I looked down and put my hands on my chest. Yes, bumps. Small, but maybe getting bigger. "I would die before Black Tower."
"They will find you. You cannot find that green place. How do you know it is true? Maybe makers of Black Tower and the mine makers broke it. They break everything and then tell lies. We know that."
"We will go together. I will not leave you here to wait for the death."
She took my hand and we curled together and slept.
~
For many many days, I looked at the green picture so that I could feel the shape of the mountains under my hands. I could feel the shape of red domes under my hands, too. That shape made me sad. Scared.
One night I heard buses on the road and I told Mi-Wye that we would leave the next night and to bring as much food home as she could carry. I thought we could find water, especially when mountains got near. She went to work in the morning.
I was about to go to the picture hall when I heard sternoids clanking close close. I crept into darkest corner and curled into a ball like a pile of rags. They came in with shiners and looked. One kicked me and I didn't move. It kicked my back hard, but didn't bend over to check if the rags was a me. I wondered if sternoids could bend. Then they were gone. I heard crackling and light I knew was fire. They were burning our hut. I waited as long as I could, then rolled against the side, under and out to the air. I would have to hide all day until Mi-Wye came back.
I hid near the door to the mine room that Mi-Wye used. When she finally came out it was dark inside and outside. She had a bundle of food. She helped me tie it on my back.
"You must go now and I must stay here."
"But the hut is burned."
"I know. They found me at work and twisted my arms, trying to find if there was a you. I didn't tell. But if I go with you, they will look until they find us. You go. You find green times and blue and sea."
Her eyes dropped tears. Then she went back in the mine building, all dark. Dark and dark.
~
I walked many days until my bundle was empty. The walking was rough over rocks. Many times I went forward and then back until I found a better way. I climbed and hid and climbed. No more food. Little shiners of water in the rocks sometimes. I was sleeping under a rock one day, waiting till day wasn't so bright. A person came, a man. He found me and crouched next to me. He gave me food, then built a tiny fire, for warm hands. He patted my bumps and pretty soon he was inside me doing poking things. It hurt but his voice was soft and he didn't hit. He made me curl up next to him, like Mi-Wye. But he wasn't Mi-Wye and I was afraid he would take me to the Black Tower and make mine babies for crystal digging.
When the sky turned light he pulled me up and we walked together for a while. I told him I wanted to find the Travel Ring, to find blue sky, sea.
"I know the way. I will take you with me, but it is hard."
So we walked more days, one day with no food until a day came I could see the mountains from the pictures.
"Look, look. We are getting to the Ring!"
He looked at me with a small smile. "I will show you."
Walking that night just before last redness, my head hit something I could not see and I fell down.
He said, "We are there," and pulled me up. He put his hands out and pat pat pat, touched a wall we could see through, but could not go through. I could see mountains, but could not get closer.
"This is side of Dome. We have to find the crack. There is supposed to be a crack to get through, but small. Maybe too small for me, but you could get through."
New feeling. I did not want to go through alone. No Mi-Wye and no man?
"What do they call you?"
"I am Lo-Fyn."
"Are you a YRNR?"
"I do not know what YRNR is."
"Long ago papas-mamas came through the Ring. They were YRNRS. I am YRNR."
He did poking after dark time, and I liked it some. Then I saw through the Dome. There were tiny shiners far outside dome. So clear. I wanted that. We must get through.
We curled up until light. Lo-Fyn started patting Dome, looking for crack. Since my knees were tough from learning from mine work at skoo, I moved along the ground the other way. If there was a crack, I would see loose dirt and rocks on ground, not up on wall. But the wall went tight below ground, its edges buried. If I had chisel and hammer, maybe I could find bottom. I only had fingers, so I crawled, feeling the side all smooth, trying to dig away rocks and dirt at bottom. I could not see Lo-Fyn. Maybe he went back. But those mountains where the Ring stayed were still there. I was going through.
When it was hot, I curled up and slept a little, then started feeling up the wall and watching for little loose rocks. I came to a big rock that I couldn't feel underneath, but not tight. I sat on my heels and looked. The ground was full of dust, not burned hard. I went around the rock and closer to the wall. There were little stones, lots and lots of them. I pushed them away, faster and faster and the dust and little stones came loose and I was digging, throwing them behind me. I wanted my mine shovel, but kept pulling everything loose until I came to a crookedy line in the Dome that went down instead of up. Was this the crack? Did papas-mamas make the hole big enough to crawl under? Then how did they make it smooth behind them if they got through?
I must have said out loud because softly I heard, "Like this."
"Lo-Fyn!"
"I think you found the crack, E-Wye. You are clever, a good miner."
His mouth curved up and his eyes were shiny.
"What did you mean, 'Like this'?"
"I think you must go through—I will help dig—and then I will push all the dirt and rocks back so the spot is still hidden."
"You must come, too."
"No. When I went the other way this morning, I saw sternoids in a Black Bus coming this way. If they find me, they will take me back. But you will be safe."
"They will make you dead."
"I can go to the Black Tower and make babies. I'm not too old."
"But that is the death. That is blacker than mines. Come?" I put my hand on his arm and pulled a little.
"Sternoids will come soon. You must hurry. Find your sky of blue, your green mountains." He started pulling dirt and stones away from the crookedy line that got wider. We worked together until it was wide enough for me to slide through.
"But I like you, Lo-Fyn."
He pulled me over and in all the dust covering both of us, he patted me and put his mouth to my mouth. "You go now. Go fast."
I rolled under the crack and he was already filling up the hole. When I stood up on the other side of Dome, there was just dust. No Lo-Fyn. Far away, still under Dome, I could see other dust. The Black Bus coming. Sternoids would find him and I would never see him. My eyes filled and tears ran down my face until I couldn't see anything.
I turned to the mountains and tried to run. The ground was soft and it was hard to run. I looked at my feet and couldn't see them. There was long green everywhere. I looked up. Blue sky. The mountain was color of clean smoke. The top was white. Maybe I didn't need a Travel Ring. I stopped running. I looked back one time, but all I could see was huge dust that stayed still. It didn't cross into the green and blue world. That was Dome world. I was outside.
I made big breaths. The air had smell of new. I put my hand into the soft greens and pulled. I chewed it. It tasted green, sweet, but not food. I walked slowly, wanting Lo-Fyn, but glad there was no other voice. I mostly wanted Mi-Wye and her voice. Her eyes would shine and her mouth curve up. I walked away through the green.
Ahead, I saw a line of stones that fit together, a wall for sitting. Maybe I might find food. Maybe papas-mamas lived near. I was so hungry. And wanting to sleep.
I came to the wall and put my hands on it. Not stones. Black and smooth, like metal in mines. The wall went around and around and in the middle was water. I dipped my hand into the water.
🙦
I walk to skoo every morning, but today chains hung across the door. Line of black buses waiting. Sternoids jumped out and shoved us inside. No seats, no windows. Us bigger ones hung onto the bars up top. Littles hung on us. The bus started with awful shaking—rattle rattle rattle. You couldn't hear.
---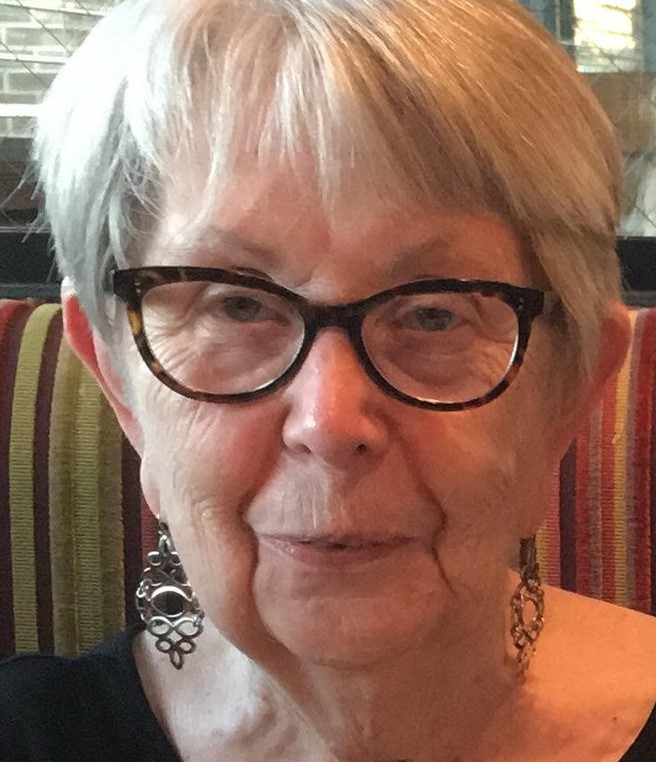 Judith Shadford
After a marketing career in Washington, DC, New York City and Santa Barbara, California, I took my MFA at Pacific Lutheran University (Tacoma, WA). I've had essays and short stories published in literary and mystery journals including Shark Reef Journal, Aesthetic Armchair, SpokWrite, River & Sound Review and Ellery Queen Mystery Magazine. I am a member of the Mystery Writers of America.