Somewhere in the city a judge is counting money. Somewhere in the city three men stand shirtless in the rain. Somewhere in the city a baby cries.
~
The city is long and tall, and made up of many layers. The city sleeps but never dreams; the city pumps blood through its veins.
~
I am in the city and you are in the city. You can't leave it, don't think about leaving it, stay here with me.
~
Somewhere in the city I'm pressing you against a wall. The cold, wet brick saps warmth from your naked shoulders, and slimy water from a broken gutter splashes onto your back.
"What?" I ask you, crooning my nose against your neck. You are petrified and cannot move. Your mind is in another place. Your body is like a doll, unoccupied. I'm just having fun.
"Where you off at, baby?"
I give your ear a little lick. Ever since you became a projector I've been so into you. I've got a kinky little thing. You say nothing, your body is stiff and clammy to the touch. Wrinkles on the skin, pockets of water pooling in the crook of your collar bone.
"You feeling this, baby?" I ask with no expectation of a reply. I don't do anything more, I keep my hands an inch away from your body the whole time.
"Let's just watch the stars, yeah?"
Neither of us can see the stars. No one can see the stars from the city. They're a distant memory, a story rewritten by the passing of time.
I peel away from you eventually because I know there will be people on the street soon. A hundred heads weaving past all the projectors slumped on the sidewalk and against walls. No one even looking at them.
And somewhere in the city people without bodies fly. The projections fly in rivers, turning colossal gears with ghostly hands. The city pumps them in and out like oxygen. They keep the engines going.
As I walk back to my glistening apartment at the top of the city, I think about you. I think about you always, I want you to know that.
What do you think of out there, your soul like smoke in the streets? What does your vacant body dream of? Does it dream of me?
~
The first time I touched you, the city was still young. Just an idea in our heads. It was drizzling outside, and the smell of water and wet concrete slinked in through the open window and curled at our ankles.
"I really shouldn't be doing this," You said, and it was cute. "What if someone finds out?"
"No one will find out." I reassured. Your skin was like a sponge cake on my tongue. I had to hold myself back from taking bites.
We were both still drunk from the night before. After sex, we put our feet through the window and watched as the relocation rockets chewed up the sky. Their fiery trails stuck against the horizon like a wound, reds and blacks wrestling blue. I remember that you squeezed my hand and told me that you felt so afraid, all the time, everyday.
I squeezed your hand back. Rain spattered your face as we ate oranges with our feet dangling over the flooded streets. The fire in the sky swelled with sunrise, and somewhere stories beneath us, coral had begun the slow process of expanding into the sunken city floor. Polyps budding against concrete and rusted cars, fledgling zooxanthellae wriggling on their backs.
It was a beautiful moment we spent together and nothing can take that away from me.
~
Somewhere in the city I sleep and dream of you. Somewhere in the city a girl bleeds her last drop of blood.
~
My apartment is nice. I mean, really nice. Chromed out walls, thirteen cyberheads wired up to serve me. The city makes excellent food. You'd think it wouldn't go down easy, but they do a great job flavoring it. Steak, boiled eggs, fried liver and bread. I open up one of the cyberheads and make it print me five plates, from which I only take a few bites.
You used to hate how much food I wasted.
Why does it matter? I would scream at you, throwing things at the wall. We're here now!
In a fury, I sling one of the platters against the glass window. My stomach clenches in expectation of a shatter, but of course it doesn't break. Instead my adrenaline is wasted, pathetically pumping in my veins as the plate bounces back to the floor, scattering shrimp to the furthest reaches of my living room.
Even when you're gone you haunt me.
After dressing myself in the city's latest fashion, I venture outside and pace the honeycomb of streets to the place where I work. It's not the one you remember, I got a promotion. Now I work at the Bureau of City Regulations. I'm one of the people in the room who decides when curfews happen, what neighborhoods are deemed habitable, where to steer the city. We all wear beautiful silver and speak in code. We are crisp models of the future.
Since you became a projector, I've done lots of impressive things. Ascended the ranks, pushed the city in a new direction. You always said that you were the only thing keeping me in check, but I've since realized the opposite: you were the only thing stifling me. Without you I've soared.
It took me a while, but I am glad you became a projector.
I remember waiting in the lobby with you, back when the city was just an idea. We used to see posters all over town, advertisements online. I hadn't thought you'd be interested in this part of it, I didn't understand it at all when you told me. It made me regret ever introducing you to the idea. It made me wish I'd never put our names down.
The nurse told us all about it. I remember hearing the phrases: send the soul outside of the body, and it's like a long dream. What I remember most was the orientation they made us watch before you were allowed to mark your name. We sat there in silence as a cartoon doctor slid a metal implant into the back of a cartoon patient's neck. We watched in silence as federal warnings filled the screen.
No pain, hands that never tire or weep. That was the pitch. The number on all the ads was ten thousand. Ten thousand projectors needed to work the city and get it up into the stars. I learned then that once you set your mind to something, there was no stopping you. You were the six thousandth two hundred and eighty ninth volunteer.
~
Somewhere in the city a man collects projectors and sets them up naked in a circle. Somewhere in the city beneath the sewers a hundred people hide in hidden shanties. Somewhere in the city someone dies.
~
At the office, my assistant puts a stack of files on my desk. The pages detail murders, disappearances, abnormal projections. A hundred black and white faces stained into paper. He tells me there's been a recent string of reports in which projectors have suddenly regained consciousness. The city's vitals confirm each case.
I flip through the files for the report I have to make, but my mind is elsewhere. I'm thinking about you.
During my presentation, as sharp, powder-smeared faces pick and gnaw apart my words, I'm thinking about you.
In my boss's office with the knives, I'm thinking about you.
The best part about my job is that I get access to all the cameras. No one in the city knows it, but there are cameras everywhere. Every bedroom, bathroom, alley. Every closet and locker.
I spend a lot of time watching weird shit on the cameras. There's so much to see, it's not really my fault. Today, I'm supposed to be looking for those aberrant projectors, but the whole time I just watch you. There you are on the corner between the prison and the clothes shop, just beneath the broken lamppost that casts you in bitter light. Unmoving except for your hair, which rustles gently in the subterranean breeze. People pass you on the sidewalk but nobody looks at you. How could they miss such beauty?
Where are you right now? In the engines? The heart? The stomach? The city could have you anywhere. It's funny, I realize, here you are on camera, and yet I have no idea where you are.
~
Somewhere in the city I'm throwing up. Somewhere in the city I miss you too much.
~
I remember the last thing you ever said to me. If you think about it, we'll be together forever. I hated the romance of that in the moment, but I see it now. You, a ghost in the city, me, at the city's helm. Sometimes when I'm in the office I feel a phantom little something tugging at the skin of my neck and I'm sure it's you. Sometimes I let it get me excited.
God, the sex we used to have. If you weren't infertile I would have gotten you pregnant a hundred times. I'd get your projector pregnant, if I could. I remember how we used to do it. We had the TV blaring always and I would grab your wrists and pin them up above your head. I'd do it until I came and then you'd run to the bathroom to finish.
That sex was ours. It was a ritual, a beautiful thing, special. We never spoke about it other than when we were having it–and even then, we didn't say much.
There were many things we never spoke about, but I didn't need to hear you speak to know what you wanted. The same is true now. It'll be true in a thousand years, when the city breaches the void and sees sunlight for the first time in millennia.
On that day, someone in the city will be wracked with joy. Someone in the city will explode.
~
After clocking out of work and walking the pale streets home, I hang my suit up in the closet and walk in my boxers over the hardwood. It's cold to the touch, and the chill seeps up my shins to my knees. I can feel my joints age with each step. After crawling into bed and making a ball with the sheets, I cry myself to sleep.
Don't you feel bad for me? Please tell me you feel bad for me.
I want to hear you say it so that it's true.
~
Somewhere in the city something is watching you right now. Hungry eyes peering through a pool. But the shapes flicker and flee as you look up, scattering like smoke on a windy day.
Somewhere in the city I'm sleeping. Somewhere in the city I'm dreaming of you. The next morning I come to find you, like I do every morning. But something is wrong.
You aren't there.
Panic carries me to work, and sure enough, there is another missing projector report on my desk. I see your face on the file sheet. One of my peers approaches me and asks if I'm alright, but his eyes are a hissing den of snakes and I've always hated him. I storm from the room and plug myself into the camera network. I look everywhere for you. All the places we used to go to before you projected.
I look at the park, little more than a field of mulch now. I don't see you.
I look at the roof of that one tower, the one with the stone gargoyles and the bell. You aren't there.
I look at the bridge. I look at the gas station. I look at the cafeteria.
Getting desperate, I look at your mother's house. I look at your childhood room. I look at your sister as she's showering, and spend a couple minutes staring just to be sure she isn't you.
I don't see you anywhere.
~
Somewhere in the city I imagine you cowering. Somewhere in the city I imagine you hungry. Somewhere in the city I imagine you're mine.
~
In the despair of your absence, I become another creature entirely. I do a lot of shit I'm not proud of.
I take a few projectors home. The things I do to them. You can imagine the details.
At work, I raze neighborhoods in search of you. Communities attempt to organize against me, working my name into chants. Riots break out but I command the city's police to wrap that nonsense up. They do it happily, hungry mouths foaming as their little tails wag. A couple streets go red but I don't care.
In the wake of the lost projectors, I sentence three hundred detained citizens to receive the operation. It raises ethical concerns and I know it. I think I've come to realize that maybe I have some flaws.
I want what I want. You can't blame me for that.
~
I was furious when they didn't let me in the room to watch. While they were putting the brick in your spine I was forced to sit in the waiting room. Hours later, as they tried to explain that there had been a complication, I raged like a lion. What was supposed to happen in a day became a month-long process. The doctor told me one thing, that your body had rejected a part of the implant, but I knew the truth. You weren't like all the rest. You were special, mine.
They put you on blood dilutions, a secondary treatment to help your body accept the brick. You were still lucid when the city launched. We watched together as the crater we left behind shrunk smaller and smaller, until the whole horizon was nothing more than a speck. Then Jupiter slung us like a bullet into the void, and it was just me and you together in the black.
Although I grieved the decision you had made, I admit I was impatient for the process to start. So when, one evening, I noticed you desperately waving your hands in front of my face and mouthing urgent, silent words, I was relieved. The pamphlets had said that speech would be the first faculty to go. It was about time.
When you lost your vision, I had to put you in the bedroom. I assumed that would be the end of it, but you insisted on trying to open the door, on bumping into walls and breaking things. I had to take you on walks. When you stopped moving, I pressed my ear to the door and listened for your faint, shallow breaths. I couldn't hear them. Like an epiphany, I knew where I had to put you next.
~
In the office, my partner comes to me and hands me a wet croissant. I accept the gift and eat it silently over my desk. Crumbs fall in between the spaces of my keyboard. I eat the whole thing, maybe just to spite you.
My partner has been tracking a group of dissidents evading surveillance in the sewers beneath the city. He's been on them for weeks, pinning red string to corkboard in the dead of the early morning. He tells me he's close, that he's got them boxed in a corner, and that he could use my help.
We walk twin-shouldered to the rendezvous point. As the city pulses around us, breathing in and out, I imagine projections wriggling through the infrastructure, and I imagine you there among them. I know you woke up, but if I don't see you, I can pretend it isn't true.
"Bastards are learning to organize." My partner whines, "We let them run this time, we'll regret it."
The two of us close upon the corner like a vice. My partner is terrible and I hate him. I have to fight back the part of me that begs to slap him across the face.
"Hold up." He says, throwing his arm out to stop me, and then pointing down to a storm drain beneath our feet. "Listen." He hisses. I don't hear anything.
"They're beneath us."
"I don't hear anything."
"Shh!" Now he speaks only with his lips. I'm going down. You go around, he mouths. It kills me to listen to the guy but I do what he says. I walk around the corner as he rips the grate open and descends like a leopard into the darkness.
I hear screams as I turn into the alley. I don't look back.
~
I knew you still weren't projecting yet because sometimes you would sleepwalk home. I know it's odd, especially because I used to beg you to spend the night, but I much preferred you out there. There was something public that I liked about it. I don't know. It made me excited.
I could look out my window and there you were. Standing in the cold. Perfectly poised and elegant, like a model, like a statue.
The last time you came into my room before the city workers confirmed you were projecting, you crawled into my bed while I was still asleep. I woke up with your hand around my waist.
I've never told anyone this, but for a while I laid there in silence and thought about keeping you in bed with me. I listened to your faint, shallow breaths. It was like you were barely there.
Then I took you back out.
~
My partner is insufferable, but this time he's right. Sure enough, the carnage of his sudden descent has driven the sewer dwellers right into the open. I watch them burst from a storm drain, barreling forward like a torrent of water to the adjacent tunnels.
It takes me a minute to notice you, but I do.
There you are, standing by the ruptured drain, helping limbs and bodies up. I stare at you hard, which makes you turn around, and we lock eyes with each other. I could pull my gun, riddle you full of holes. I could do anything.
I wonder, do you recognize me?
Blood and adrenaline rush to my head, and this tiny fraction of a moment becomes an entire century in my mind. I reflect on my whole life. I realize now why you did this, all those years ago. Why you broke my heart and gave me the greatest gift I've ever been given.
You wanted out. I had trapped you. I hadn't realized I had, but I had, and you wanted out so bad.
I stand there watching you. You stand there watching me. We are both watching each other. And then a pulse, a beat of adrenaline as you rush to move. In silence amidst the screaming, I chase.
---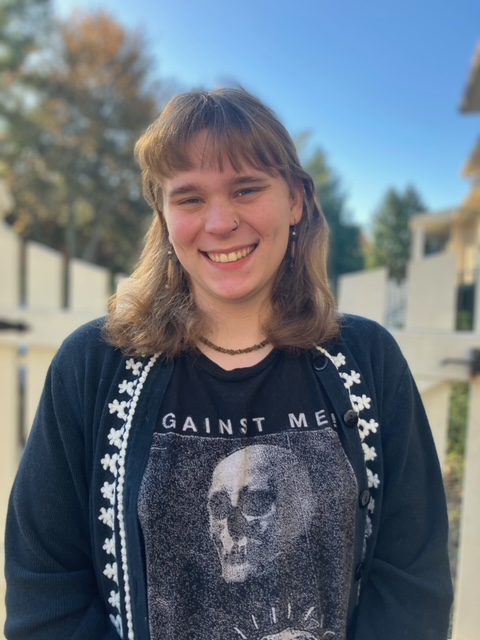 Maxine Sophia Wolff
Maxine Sophia Wolff is a transgender writer from Virginia. Her work has appeared before in Planet Scumm, Fusion Fragment, and more. She also works as a writer in the video games industry.